National Basketball Champs Feted at Crain Lecture and Campus-Wide Picnic
March 21, 2007
March 21, 2007, Greencastle, Ind. - "I think we just felt like this year, it was a special team," DePauw senior Caitlin McGonigal says of her teammates on the national champion Tiger squad "We had great team chemistry," she said during a special Gertrude and G.D. Crain Jr. Lecture yesterday. The event, "In a Class of Their Own: The DePauw Women's Basketball Team," featured the senior members of the Division III national champs: Liz Bondi, Suzy Doughty, Bridget Bailey, Kristy Mahon and McGonigal. (photo: Alex Turco/The DePauw)
"The squad was treated to a standing ovation while entering the room," writes Adam Coates in today's Banner-Graphic of Greencastle. The session was moderated by Ken Bode, Eugene S.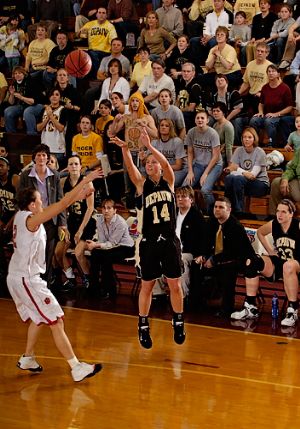 Pulliam Distinguished Visiting Professor of Journalism at DePauw.
The audience that filled Watson Forum of the Pulliam Center for Contemporary Media included DePauw President Robert G. Bottoms, who told the team members, "You don't have any idea how proud you've made us." After the event, the University sponsored a free, campus-wide picnic in the team's honor. It took place in the Memorial Student Union Building.
Access the story at the newspaper's Web site.
The women's basketball team captured the first-ever team national championship in DePauw history by defeating Washington University (St. Louis) 55-52 in a thriller Saturday.
Video highlights of the game (which was played in Springfield, Massachusetts and televised nationally on CSTV) and the Tigers' celebration can be accessed in this previous story and comprehensive coverage of the team's historic season can be found by clicking here.
Back