Northern Illinois U Columnist Raves About DePauw's Dining Options
March 23, 2007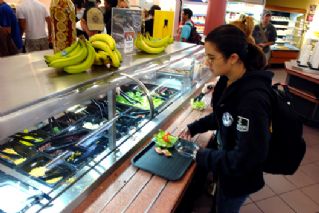 March 23, 2007, Greencastle, Ind. - "DePauw University has an enrollment of 2,326 and if that school can have healthy food why can't the students here have the same luxury?," writes Ryan Strong in Northern Illinois University's Northern Star. Over NIU's spring break, Strong visited DePauw's campus and reports, "I noticed completely different dining options. At NIU, our eating options include fried food, sugary foods and more fried food." NIU has a student body of more than 25,000.
"At DePauw, in addition to options like pizza and hamburgers, there was sushi, fruits, vegetables and a wide variety of options for vegetarians. This made me wonder: Why isn't the housing and dining department providing healthier food for students?"
The column continues, "The first facet that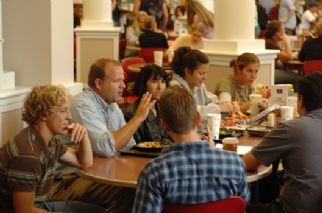 caught my eye in DePauw's cafeteria, called 'The Hub,' was the Japanese sushi chef preparing fresh sushi for students. To my left was a section devoted to vegetarians. The section looks like a stand straight from an upscale grocery store. Here at NIU, the only option for vegetarians are the Boca burgers. Who wants to eat the same meal everyday? At DePauw, there were deli sandwiches, salads and Ben and Jerry's ice cream. I wondered why every NIU students can't have these types of options. Moreover, what is DePauw's dining office doing that NIU's clearly isn't?"
Read the complete text by clicking here.
Back