Pulitzer Prize-Winner Richard Ford Here for Crain Lecture, April 16
March 23, 2007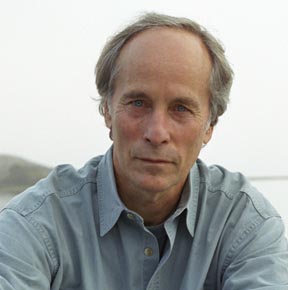 March 23, 2007, Greencastle, Ind. - Pulitzer Prize-winning novelist Richard Ford will come to the campus of DePauw University on Monday, April 16, to present the Gertrude and G.D. Crain Jr. Lecture. Ford's presentation, "The Lay of the Land: A Novelist Looks at America," will begin at 4:15 p.m. in Watson Forum of the Pulliam Center for Contemporary Media. The program is free and open to all.
Richard Ford's 1995 novel, Independence Day, was the first ever to win both the Pulitzer Prize and the PEN/Faulkner Award. The protagonist from that book as well as 1986's The Sportswriter -- Frank Bascombe -- returns in The Lay of the Land. Published in October 2006, it is Ford's first novel in ten years.
All told, Ford has authored five novels. He received the PEN/Malamud Award for excellence in short fiction in 2001 and is a member of the American Academy of Arts and Letters.
The Lay of the Land takes place in the America of 2000, immediately following the presidential election but before a winner had been declared. "I thought it would be a recognizable time in the life of most Americans," Ford told California Literary Review. "I thought it was a moment
that almost begged for a certain type of reflection that no one had done at the time. That it needed to be showcased in essence as a time of a kind of peculiar moral lethargy in the American culture and in the American populace. The consequences of which were at least the Bush Administration and all of the fiascos that have come about because of the Bush administration, and out of a sense of cultural, institutional and governmental doze comes disaster. Real disaster. I was also wanting to write a book that was political in nature, although not high-dollar political. I wanted it to be about politics in the sense that the things that eventuated after September 2001 were extent in the culture and available to be noticed and witnessed and feared for well before, long before, 2001. But it seemed to me to be a perfectly framing moment in American history. So that's why I chose it."
In his latest work, "Ford is showing us that the world we live in is freighted with meaning, worthy of stopping to consider, and is, when looked at the right way, hauntingly, hilariously, ruinously poetic," writes Devin Friedman in Gentlemen's Quarterly. "The Lay of the Land, as with the entire Ford canon, is distinct not only for its singular style but also because of its generosity," adds the Chicago Sun-Times' Stephen Lyons. "Ford shows that life is never easy and never placid. We will fight and flail, and love and lose. Yet we keep moving forward for that occasional moment of pure understanding."
In the UK's Guardian, Hermione Lee opined, "My great book of the year was Richard Ford's The Lay of the Land, his Ulysses, a long, painstakingly attentive, humanely comical celebration of the mid-life of his New Jersey real-estate salesman, Frank Bascombe, an American citizen at odds with, and at home in, America, whose story, so wonderfully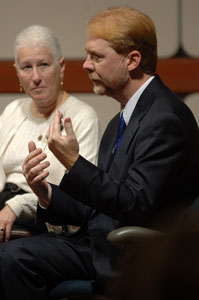 written in every breath of every sentence, will teach you how to lead a well-examined life 'on the human scale' -- and how to leave it."
Endowed by Rance Crain, president of Crain Communications and a member of DePauw's Class of 1960, The Gertrude and G.D. Crain Jr. Lecture Series honors Mr. Crain's parents. Previous Crain Lecturers have included: the seniors on DePauw's national championship women's basketball team; Sarah Shepherd, senior producer for CNN's Larry King Live and 1997 graduate of DePauw University; Tim McCaughan '93, senior White House producer for CNN; David Keene, chair of the American Conservative Union, and Roger Wilkins, a noted civil rights leader, historian, and Pulitzer Prize-winning journalist; Father Richard P. McBrien, Crowley-O'Brien Professor of Theology at the University of Notre Dame and a consultant to ABC News for papal events; award-winning reporter Jerry Mitchell and civil rights activist Rita Bender, the widow of slain civil rights worker Michael Schwerner (pictured at left); Samantha Power, author of A Problem from Hell: America and the Age of Genocide; Emily Wax, Africa Bureau Chief of the Washington Post, and her husband, Raymond Thibodeaux, who also covers the region for Cox News, Voice of America and the Boston Globe; historian Douglas Brinkley, author of Tour of Duty: John Kerry and the Vietnam War; and Joe Trippi, who managed Howard Dean's presidential campaign.
Back