Roy O. West '90 -- DePauw Trustee and Benefactor, Former US Interior Secretary -- Passes Away
November 30, 1958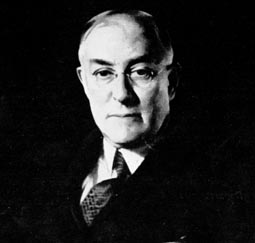 November 30, 1958, Greencastle, Ind. - Roy Owen West -- prominent attorney, former U.S. Secretary of the Interior and 1890 graduate of DePauw University -- died today in Chicago at the age of 90. A Phi Beta Kappa graduate of DePauw with a bachelor of arts and law degree, West rose to national prominence and, throughout his life, kept DePauw in the forefront of his interests.
"With the passing of Roy O. West an important era comes to an end," notes DePauw President Russell J. Humbert. "However, his real life will never end; his influence as a representative of DePauw University will never end."
First named to the University's Board of Trustees in 1914, Dr. West became president of that body in 1924, holding the office continuously until his retirement in 1950 when he was named president emeritus of the board.
It has been estimated that West was responsible -- in one way or another -- for more than $10 million in gifts to DePauw throughout his lifetime. West convinced his close friends, the late Mr. and Mrs. Edward Rector, to provide funds for three dormitories -- Rector, Longden and Lucy Rowland halls -- and to establish the Rector Scholarship Foundation, a $2.5 million endowment fund which is one of the largest single-grant scholarship programs in the world.
DePauw expressed its deep appreciation for her distinguished son by naming its new library, dedicated in 1957, in honor of Roy O. West.
Born October 27, 1868, in Georgetown, Illinois, West was a member of Delta Tau Delta fraternity at DePauw. He earned a master's degree here in 1893. The University also conferred an honorary Doctor of Laws degree on West in 1938; four years later he was the recipient of the coveted Old Gold Goblet.
In 1894, West became assistant county attorney of Cook County, Illinois, and two years later was named city attorney for Chicago. He became chairman of the Republican state committee in 1904, a post he held for ten years. In 1924, West directed the primary election of Illinois Governor Charles S. Deneen, a close political ally, for the U.S. Senate nomination. West's successful efforts led President Calvin Coolidge to appoint him Secretary of the Interior.
"Roy Owen West, often honored for his great deeds, deserves honor for his little kindnesses -- 'that best part of a good man's life,'" says Robert H. Farber, dean of the University. "He will continue to be, as he always has been before, a precious possession and heritage of DePauw, and inspiration to those who follow."
Back