USA Today's Jim Sergent '89 One of the "Good Ones"
March 25, 2007

March 25, 2007, Greencastle, Ind. - "Jim Sergent came to us for his first full-time job after graduating from DePauw University," writes Jan Griffey, publisher of the Niles Daily Star. "For several years, he worked as the editor of our weekly newspaper, which serves Cassopolis and Edwardsburg. Today, he's in charge of the design of the Money section of USA Today."
Sergent, a 1989 graduate of DePauw, is one of several former staffers cited in Griffey's column. "I don't have children of my own, but I expect running a newsroom is similar in some ways to parenting," she writes. "At the Niles Daily Star-- an all-local, community newspaper -- we get our reporters and photographers at the very beginning of their careers. Typically, we keep the good ones 18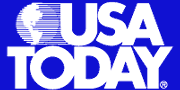 months to two years before they are ready to venture off on their own. We certainly have had some good ones."
Access the item at the newspaper's Web site.
Back