Monon Bell Streak Reaches Eight Straight with 13-10 Tiger Triumph
November 17, 1962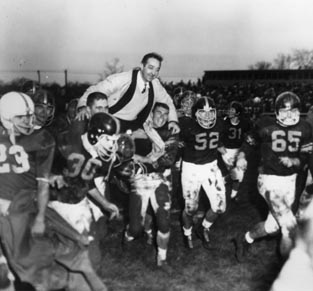 November 17, 1962, Crawfordsville, Ind. - DePauw University extended its streak of seasons possessing the Monon Bell to eight straight with a 13-10 triumph at Wabash College this afternoon. Jim Menighan completed nine consecutive passes in the third quarter and amassed 192 yards for the day. A touchdown strike to Eric Christman decided the contest.
The Tigers and Coach Tommy Mont (seen in the photo receiving a "victory ride" from his players after the final horn sounded) end the 1962 season with a 5-4 record. The Little Giants wind up 5-3-1.
See a "Monon Memory" of the game, featuring photos of the battle for the Bell and narration by Ken Owen '82 (who wrote, produced and edited the series), here:

[Download Video: "1962 Monon Memory" - 2518kb].
Access all Monon Memories here, and visit the Monon Bell Web page by clicking here.
Back