Late Two-Point Conversion Keeps the Monon Bell in Greencastle
November 12, 1960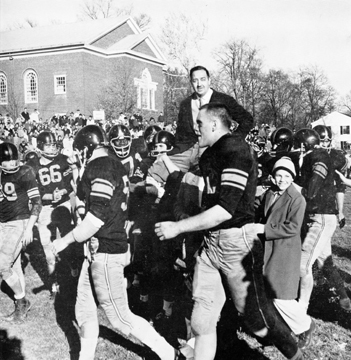 November 12, 1960, Crawfordsville, Ind. - Coach Tom Mont's decision -- aided by his fans -- to fake an extra point kick and go for a two-point conversion instead was the difference, as DePauw University defeated Wabash College in the annual battle for the Monon Bell, 14-13. The win ends DePauw's 3-5-1 season on a high note.
Wabash had a 13-6 advantage with less than four minutes left, when the home team turned the ball over. DePauw drove the field, and with 28 seconds left quarterback John Rubush pitched to Dan Blunt and he rambled in from 2 yards out.
Now down one, Coach Mont turned to the crowd for help -- should DePauw go for one or two? The fans seemed to signal the latter. The Tigers lined up for an extra point, but instead Rubush took the snap and ran in for two points.
See a "Monon Memory" of the game -- narrated, written and produced by Ken Owen, here:

[Download Video: "1960 Monon Memory" - 3521kb].
Access all Monon Memories here, and visit the Monon Bell Web page by clicking here.
Back