Media's Increasing Need for Speed Can Hurt News Gathering, Bob Steele '69 Tells USA Today
March 31, 2007
March 31, 2007, Greencastle, Ind. - "Bob Steele, who teaches ethics at the Poynter Institute, a Florida-based school for journalists, says that speed has always been an important factor in journalism," writes Peter Johnson in his USA Today "Media Mix" column. Steele, a 1969 graduate of DePauw University, is one of the experts who speak to several recent examples of mainstream news organizations picking up information via the Internet.
Johnson writes, "Now, with Web outlets churning out stories and videos that quickly gain traction across the Net, mainstream news needs to exercise great caution when deciding to pass that fare along." His story examines a video spoof of Hillary Rodham Clinton that quickly went from YouTube.com to the evening news programs of NBC and CBS, and a false report by a political Web site that John Edwards was dropping his presidential bid, which CNN and NBC piggybacked on.
"The Edwards story speaks loudly to how fast those values can get lost in a hurry," Steele tells USA Today. "It does no good to be first and wrong. Whether they are at cable news networks or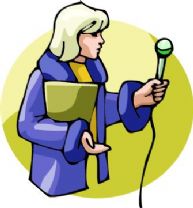 at mainstream newspapers or news blogs, journalists still have an obligation for accuracy and fairness."
Read the complete story at the newspaper's Web site.
Bob Steele and William F. Welch '40 will receive honorary degrees at DePauw's 168th annual commencement, Sunday, May 20, 2007. Learn more about the two recipients in this previous article.
Steele moderated a discussion, "The Ethics Cauldron," at DePauw Discourse 2006: Issues for America. A summary of the event can be found here, and you can access a lengthy video clip -- courtesy of Twelve Oakes Media and QuickStream.tv -- by clicking here.
Back