Prof. Mark Allan Jackson's Contributions to Pennsylvania Conference Noted in Newspaper
April 2, 2007

April 2, 2007, Greencastle, Ind. - "Mark Allan Jackson, who teaches English at DePauw University, in Indiana, said the increased mechanization of mining cost miners their jobs," notes a story in today's Daily Courier of Connellsville, Pennsylvania. The article reports on the Penn State Fayette and the state Historical and Museum Commission took a major step in that direction with a recent two-day conference at Penn State Fayette, The Eberly Campus: "Living Together, Working Together: African-American Miners and the Coal Culture of Southwestern Pennsylvania, 1870-1970."
Professor Jackson is quoted, "Machines put African-Americans out of work in the late 1930s through the early 1940s. West Virginia was 20 percent African-American once. Now, it's 4 percent. The machines loaded coal." Because the coal had been loaded by hand by black workers before the arrival of the machines, Jackson says, "They lost their jobs. The whites ran the machines."
Judy Kroeger writes, "The conference, the first of its kind in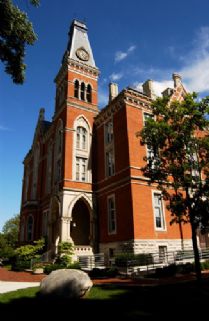 the nation, brought together scholars, workers and genealogists to begin creating a portrait of black miners' contributions to the region's history."
Her article also reports on how the conference examined the culture of black coal miners. In fact, Dr. Jackson's scholarly panel explored "Music, Labor and Race in the Bituminous Coal Region." Kroeger writes, "Jackson said music varies from mining region to region. Southwestern Pennsylvania did not have such a strong black gospel tradition. 'It transforms depending on the music preferred in the area. Around here, it's jazz.'"
Read the complete story at the newspaper's Web site.
Mark Allan Jackson is an assistant professor of English at DePauw University. His book, Prophet Singer: The Voice and Vision of Woody Guthrie, was recently published by the University Press of Mississippi. Learn more in this previous story.
Source: Daily Courier (Connellsville, Pa.)
Back