Sen. Evan Bayh Praises National Champions in Congressional Record
March 23, 2007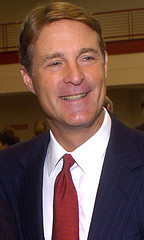 March 23, 2007, Greencastle, Ind. - "The talent of the Tigers was apparent throughout their school record 31-3 season, but it was their extraordinary teamwork that brought the championship trophy back to Greencastle," says United States Senator Evan Bayh. Today, the Democrat from Indiana entered a statement into the Congressional Record praising DePauw University's national champion women's basketball team. "These young women are a testament to what student athletes should be, and they should be commended for winning with class, courage, and character," added Bayh.
The senator later writes, "Throughout the season, the Tigers' true character shined as they never lost faith in themselves and prevailed as a team. Their conduct this season should be an example for all other student athletes to follow. I congratulate the DePauw University Tigers on their national championship and commend them for the example they set for all student athletes who I hope are inspired by their example."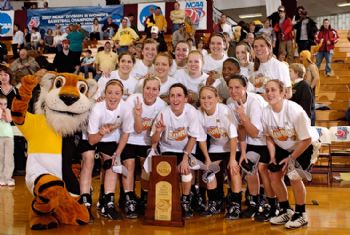 Read the complete statement by clicking here.
Video highlights of the national championship game (which was televised nationally on CSTV) and the Tigers' celebration can be accessed in this previous story and comprehensive coverage of the team's historic season can be found by clicking here.
Access a photo gallery here.
Sen. Evan Bayh delivered the commencement address at DePauw University in May 2006. A summary of the speech, including video and audio clips, can be found here.
Back