Prof. Elizabeth Morán Selected for Summer Institute in Oaxaca, Mexico
May 9, 2007
May 9, 2007, Greencastle, Ind. - Elizabeth Morán, a post-doctoral fellow and instructor of art at DePauw University, has been selected as one of the twenty-four Institute Fellows in the summer institute, "Oaxaca: Crossroads of a Continent." Presented by the National Endowment for the Humanities and sponsored by the Community College Humanities Association, the institute will take place in Oaxaca, Mexico, July 1 - August 1, 2007.
Held on-site, the institute "is an in-depth study of the history and culture of the area, with a focus on the indigenous cultures of the Zapotec and Mixtec peoples, in pre-Columbian, colonial, and contemporary contexts," note its organizers. "Twenty-four faculty selected from community and four-year colleges and universities throughout the United States will have the opportunity to study Zapotec and Mixtec culture in the field with nine internationally known scholars and writers from a variety of humanities and social sciences disciplines."
"My desire to participate in the summer institute relates to a very basic question: how can a deeper knowledge of Oaxaca enhance my teaching and my scholarship?," Professor Morán wrote in her application. "This summer I am developing a new course titled Art, Ritual and Power, which will be an introduction to the arts of Meso- and South America, Africa and Oceania. As an area where Mesoamerican civilization arose early and thrived, I have often felt that Oaxaca should be one of the cornerstones in non-western art surveys.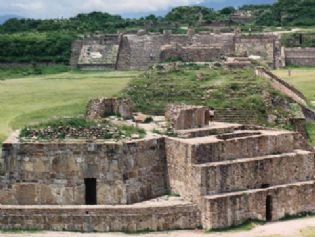 Emphasis on its historical urbanization, texts, and unique approach to aesthetics would challenge students to reframe their ideas about Mesoamerica."
Morán, has proposed a Winter Term trip to Oaxaca "where students can visit its numerous sites and examine the rich collections in its museums. The three weeks would involve readings and discussions, yet appreciating the design elements of such sites as Mitla and Monte Alban can only take place when students walk around the structures and experience their unique spaces. The Oaxaca Institute will be an exceptionally helpful preparation for this intersession course."
Learn more at the institute's Web site.
Back