Liz Bondi is One of Sports Illustrated's 'Faces in the Crowd'
April 4, 2007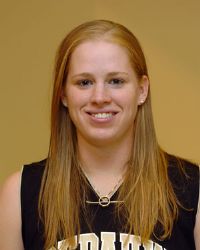 April 4, 2007, Greencastle, Ind. - DePauw University senior Liz Bondi is featured in the April 9 edition of Sports Illustrated as one of the magazine's "Faces in the Crowd." The text accompanying a photo states, "Bondi, a senior forward at DePauw, was named most outstanding player as the Tigers took their first-ever Division III women's basketball title. She led the team in scoring (15.7 points per game) and became a basketball All-America. She is a six-time All-America in tennis (three times in singles, three in doubles)."
Access the item online by clicking here.
Hailing from Park Ridge, Illinois, Bondi also averaged 5.9 rebounds per game during the 2006-07 championship season. She and the other four seniors on the Tiger team closed out their collegiate careers with a 109-15 record.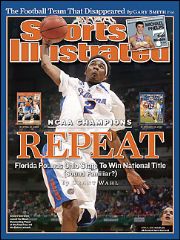 Liz Bondi was featured on CBS in 2005.
Video highlights of the March 17 national championship game (which was televised nationally on CSTV) and the Tigers' celebration can be accessed in this previous story and comprehensive coverage of the team's historic season can be found by clicking here.
Access a photo gallery here.
Source: Sports Illustrated
Back