Prof. Dave Berque and Dennis Trinkle '91 Nominated for TechPoint Mira Award
April 4, 2007
April 4, 2007, Greencastle, Ind. - Dave Berque, professor and chair of computer science at DePauw University, and Dennis A. Trinkle, chief information officer at Valparaiso University and 1991 DePauw graduate, are both nominees for a 2007 TechPoint Mira Award. Drs. Berque and Trinkle are among eight individuals nominated in the category, "Education Contribution to Technology - Individual."
Now in their 8th year, the Mira Awards spotlight Indiana's most successful technology-driven companies. Nominees include information technology, advanced manufacturing, life science and logistic companies, as well as K-12 and higher education institutions. Winners will be announced at a May 18 gala at the Indiana Roof Ballroom in Indianapolis.
Dave Berque's work at DePauw led to the development of pen-based technology that is now being used in classrooms around the country. The system, which is manufactured and marketed by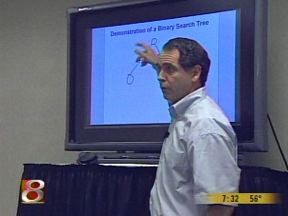 DyKnow, received a United States patent in February 2006 which lists Berque as the inventor. The professor recently appeared on Indianapolis CBS affiliate WISH to discuss the technology and how it works. In 1997, Berque's efforts earned him recognition as the Carnegie Foundation for the Advancement of Teaching Outstanding Baccalaureate Colleges United States Professor of the Year.
Dennis Trinkle won the 2006 Techpoint Mira Award for Educational Contribution to Technology for his work as associate vice president for academic affairs and chief information officer at DePauw University. The founding president of the American Association for History and Computing, Trinkle was a Management Fellow at DePauw, where he graduated magna cum laude and Phi Beta Kappa with a B.A. in History. He has also taught the University of Cincinnati and University of Indianapolis. While at DePauw, he served as the
founding director of the University's award-winning 361° Initiatives and Information Technology Associates Program.
The Mira Awards focus the spotlight on the accomplishments of companies and organizations that operate in health and life sciences, information technology and manufacturing.
In 2003, DePauw University was among three Indiana colleges and universities to be cited with a Mira Award for "excellence in the delivery or use of technology to further learning and educational achievement."
"TechPoint is proud to announce the 2007 Mira Awards nominees," says Jim Jay, president and CEO of TechPoint. "Each nominee has advanced Indiana's economy, brought global attention to the state, and raised the quality of life for all Hoosiers."
Back