DePauw "Opened My Eyes" to Life's Possibilities, Says Lee Hamilton '52
April 5, 2007
April 5, 2007, Greencastle, Ind. - "I had an undergraduate experience at DePauw University that certainly opened my eyes to a lot of possibilities," Lee H. Hamilton, co-chair of the Iraq Study Group and 1952 DePauw graduate, says. An interview with Hamilton is posted at the Web site of the Indiana University School of Law - Bloomington, where he received his law degree in 1956. (photo at left shows Hamilton talking with DePauw students during an appearance in historic East College)
The interview was conducted by Sarah J. Preuschl, a 2005 graduate of DePauw, who is a writer and editor for the law school's publications.
"I believe that lawyers have a very special role in the new world coming," says Hamilton, a Democrat who served 34 years in the U.S. House of Representatives and was vice chair of the 9/11 Commission. "Lawyers are the chief negotiators and mediators -- often peacemakers. I think they possess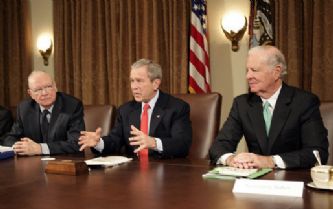 special skills that are very much needed in the kind of a world we live in today and certainly for the future. I don't think there's ever been a better time for a young American with a newly-minted law degree to make a contribution to his community and to the country."
Hamilton, who has been praised in recent news stories as "wise man" who is respected on both sides of the political aisle, discusses the challenges ahead. "The great skill that is needed among politicians today (not just elected officials, but anybody who sees himself playing a political role in any kind of an organization whether it's a political party or a church) is the ability to build consensus. It's not difficult to walk into a room and exacerbate differences. What's really hard is to come into a room where you have a variety of opinions and bring people together. That takes real, genuine political skill; it's one I think we're short of today -- in the political realm anyway, if not in other realms."
T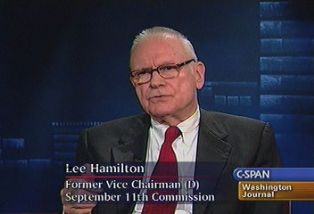 he veteran statesman adds, "We are a very large country. It's a very diverse country, and there are deep differences among us. It isn't a given that we will always be the preeminent power that we are today. It's going to take a lot of skillful people in the years ahead to keep the country unified and able to solve the very formidable challenges that we have in front of us."
Read the complete interview by clicking here.
Lee Hamilton recently wrote an op-ed on the situation in Iraq. Learn more in this previous story.
Back