Men's Golfers' Participation in Camp Lejeune Tournament Noted in Newspaper
April 5, 2007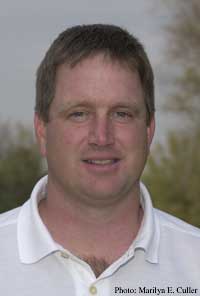 April 5, 2007, Greencastle, Ind. - "Vince Lazar of DePauw University of Greencastle, Ind., was emphatic that the Intercollegiate is the crown jewel of tournaments and most important for his golfers to participate in each year," reports North Carolina's Camp Lejeune Globe. The story details last weekend's annual Intercollegiate Golf Tournament at Paradise Point Golf Course. "The 36th annual, 54-hole medal play competition drew approximately 150 collegiate golfers from across the country, making it the largest golf tournament of its kind," writes Heather Owens.
Coach Lazar tells the publication, "We drive 14 hours to come to this tournament. That is how much [my golfers] want to be here. It is the most important tournament for them to play in during the year. From their perspective, it's the one where they feel most welcomed. From my perspective as a coach and an educator, it puts them in a situation that they would not normally be in."
Owens adds, "As DePauw is a Division III school, Lazar said that the Intercollegiate is as close to a Division I tournament as possible for his golfers 'because of the way they are made to feel special here.' Lazar said that most of his golfers do not have experience being around the military until they come to this tournament. 'Every two college students are paired with retired Marines with combat experience as far back as
Vietnam. I think that's interesting for [my golfers]. They enjoy hearing the stories and getting to know the Marines on that level,' he said."
Read the complete article at the newspaper's Web site.
DePauw's men's team finished 14th at the tournament. Details can be found by clicking here.
Back