Indianapolis Star Previews Play That Brings Together Rae Dawn Chong and Prof. Chris White
April 8, 2007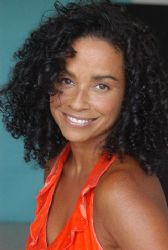 April 8, 2007, Greencastle, Ind. - "Hollywood actress Rae Dawn Chong will star in Rhythms, a DePauw University professor's play about seven seemingly different women who discover common bonds," writes Whitney Smith in the Indianapolis Star. "Performances are set in Indianapolis and Greencastle. Rhythms, by Chris White [pictured below right], follows seven women of various ages in a rural Virginia county by examining various rituals and rites of passage in the cycle of life."
The item, published in today's "Indy Sunday" arts, entertainment and travel section, also notes that the cast of Rhythms includes Nicole Halmos, Gigi Jennewein Fenlon and Amy Hayes (both DePauw faculty members),

and Megan Storti and Ashley Baxstrom (who are DePauw students). The play is produced by Tim Good, associate professor of communication and theatre at the University.
Access the article at the Star's Web site, and learn more about Rhythms in this previous story.
Rae Dawn Chong will make an appearance at an on campus showing of her film, Quest for Fire, tomorrow night. Details can be found here.
Source: Indianapolis Star
Back