Colleges Must Reach Out to "Growing Pool" of Talent, Writes Merle Allshouse '57
April 9, 2007
April 9, 2007, Greencastle, Ind. - "How often have we heard, 'People with talent and ideas are America's greatest resource'?," ask Merle F. Allshouse and Robert M. Diamond in an Inside Higher Ed column. "And yet, while colleges and universities have as their primary goal the delivery of top quality academic programs, few take full advantage of the talents that are available to help meet this goal from the retired professionals in their communities." Dr. Allshouse is a Fellow of the Florida Studies Program at the University of South Florida and 1957 graduate of DePauw University.
The essay speaks to "a wide range of possible options for involving transitioning or full-time retired persons in the day to day operation of every institution." The authors state, "In most university and college communities there is a growing pool of talented retired or transitioning individuals who would like nothing more than to make a difference by using their knowledge and experience to improve their communities and institutions while continuing the process of theirown personal development. Added to this resource is the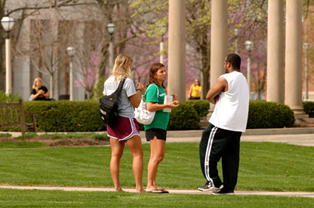 emerging wave of boomers who will be not retiring in the traditional way. They will be reinventing themselves as they enter new careers and develop new active roles of service."
Merle Allshouse formerly served as director of the Academy of Senior Professionals at Eckerd College, president of Bloomfield College, vice president of the University of Colorado Foundation, and a professor of philosophy and religion and associate academic dean at Dickinson College. Robert M. Diamond is president of the National Academy for Academic Leadership and professor emeritus at Syracuse University.
Read the complete column by clicking here.
Back