Largest Graduating Class in 13 Years Hears from US Sen. Dan Quayle '69
May 22, 1982

[Download Audio: "Address by Sen. Dan Quayle '69" - 10,422kb]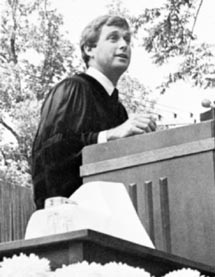 May 22, 1982, Greencastle, Ind. - "You have achieved, you have been successful, you will continue to be achievers," United States Senator Dan Quayle (R-Indiana) told DePauw's largest graduating class in 13 years this afternoon. Quayle, a 1969 graduate of the University, added, "What you really have after four years, no matter what you have done, you've got a beginning... a good foundation."
A total of 522 bachelor's degrees were awarded during the 143rd commencement ceremonies on East College lawn. Another 32 students received master's degrees as a crowd of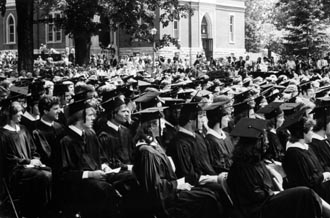 about 4,000 watched.
"I am proud to have attended DePauw University and to be a graduate," Quayle said. "And there's no doubt that [it] gave me a fine foundation."
The senator told the new graduates that their success "depends on discipline -- whether it's personal success or the success of the nation. As I assess many of the problems confronting this Congress and our national leaders, I wish there were more discipline. During the past six months Congress has debated the budget and delayed until this week passing it. And it's still not balanced," Quayle stated.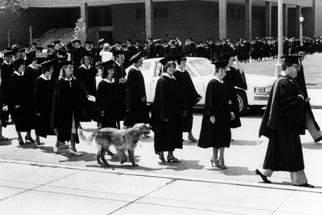 "The reason is very simple," he continued. "Congress lacks the consensus, the determination and the political will to discipline its past spending habits."
Quayle, who holds a law degree from Indiana University, declared that Congress "must exercise discipline in its fiscal policy. This discipline must be applied across the board to entitlement programs, defense and discretionary accounts ... and the sacrifice should be equal and fair."
However, he added, "Unfortunately, the pressure in Washington is not for less spending but for more." The United States is the envy of the world, not because of big government, big business or special interest groups, su
ch as labor unions. "We are a prosperous, strong nation because of our people and because our people are free," Quayle asserted.
Hear the complete address:

[Download Audio: "Address by Sen. Dan Quayle '69" - 10,422kb]. The speeches by Sen. Quayle and Kevin Armstrong '82, recipient of the Walker Cup, are combined with images from graduation day in the video embedded below.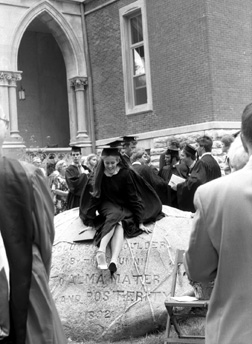 Dan Quayle was awarded an Honorary Doctor of Laws degree during today's ceremony. Other honorary degrees were bestowed upon: Joseph Flummerfelt '58, director of choral activities for the Westminster Choir College, Doctor of Music; J. Milton Yinger '37, professor of sociology, Oberlin College, Doctor of Humane Letters; Winona Welch '23, professor emeritus of botany at DePauw, Doctor of Science; Henry B. Schacht, chairman of the board and CEO of Cummins Engine Company, Doctor of Science.
The University also paid tribute to five retiring faculty members: Fred Bergmann, professor of English (1940-82); Ralph Carl, professor of Romance languages (1952-82); Cornelius van Zwoll, professor of German and Russian (1968-82); John Reiling, professor of sociology (1953-82); and Eleanor Carmichael, technical services librarian (1960-82).
Back