New Ballad of the Monon Bell Video Accompanies Recently Found Stereo Mix of Song
April 10, 2007

[Download Video: "Ballad of the Monon Bell - 2007 Version" - 7619kb];

[Download Audio: "Ballad of the Monon Bell - Stereo" - 2514kb]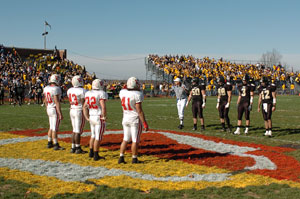 April 10, 2007, Greencastle, Ind. - The Ballad of the Monon Bell, which was originally written and recorded by DePauw University alumni in 1985, now sounds better than it has in years and has a new, updated video to accompany the song. A newly discovered stereo recording of Ballad -- written by Darel Lindquist '68 (lyrics) and Nancy Ford '57 (music) and arranged and sung by Jim Ibbotson '69 -- has been married with new photos from the annual football battle with Wabash College, as well as recently uncovered historic images and footage from the rivalry, which dates back to 1890.
Ken Owen '82, director of media relations at DePauw, coordinates the annual national telecast of the Monon Bell Classic for the University. In recent years, he has assembled a series of "Monon Memories" of past games dating back to 1932, using film footage and archival photos from DePauw's Archives and Wabash's collections. While searching, Owen found a stereo recording of Ballad, which he
describes as "an enormous improvement over the monaural version most of us have heard for years." (at right: cover of the sheet music for The Ballad of the Monon Bell)
The Ballad video was created in 1985, and was re-edited for use in the telecast of the 1993 game, the 100th battle for the Bell. The new version contains images from the November 2006 contest as well as footage and photos that date as far back as the turn of the last century.

[Download Video: "Original 1985 Video for The Ballad" 9346KB]
"Month after month, Ballad is one of the most downloaded files from DePauw's Web site," Owen says. "I think visitors will enjoy the new video, and the stereo MP3 audio is a huge upgrade from what's been available until now."
The Ballad of the Monon Bell was the brainchild of Pat Aikman '57, who directed DePauw's public relations office for many years. He enlisted the help of Darel Lindquist, who completed the lyrics for the Ballad in the Spring of 1985. Aikman then turned to Nancy Ford, whose musical credits include Broadway's I'm Getting My Act Together and Taking It On the Road and the new Anne of Green Gables. She penned a tune, and it was delivered to Jimmy Ibbotson, then a member of the Nitty Gritty Dirt Band. Ibbotson worked up
a country and western arrangement, and on October 15, 1985, recorded the song in Nashville with a group of session musicians. The song debuted November 9, 1985, on the national telecast of the Monon Bell Classic.
Visit DePauw's Monon Bell Web site by clicking here, and access "Monon Memories" here. DVDs of the 2001-06 games are available and can be ordered online.
The 114th battle for the Monon Bell is set for November 10, 2007, at Blackstock Stadium.
Back