Three Students Added to the Ranks of Lund Scholars
April 10, 2007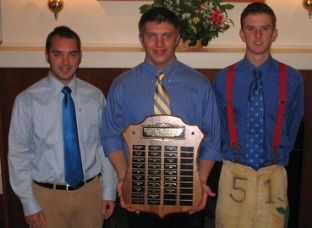 April 10, 2007, Greencastle, Ind. - Three DePauw University students -- junior John L. Schomburg and sophomores Daniel L. Harrison and Brian E. Spector -- are the recipients of 2007-08 Albert Lund Scholarships. A 1948 graduate of DePauw University and member of Phi Delta Theta fraternity, Lund established the scholarship in 1999 to reward members of his fraternity for their scholastic achievement and involvement in campus and community activities. The new Lund Scholars, who will receive $6,000 each, were announced at Phi Delt's scholarship dinner tonight. (photo, l-r: Harrison, Schomburg and Spector)
"My father passed away in 2003, but he was thrilled to see how this program affected young lives and I know he would be delighted to meet these three young gentlemen," says Larry Lund '77 -- the
son of Albert Lund and also a Phi Delt -- who, along with his sister Lindsey Lund Peterik '74 announced the scholarship recipients. "My dad loved DePauw and Phi Delta Theta, and his wish was to reward members of his fraternity who go the extra mile in the classroom and in their communities. I know he is looking down on 446 Anderson Street and smiling tonight." (photo at right, front row, l-r: Harrison, Schomburg, Andrew W. Strasburg '07 (2006-07 Lund Scholar) and Peterik; back row, l-r: Gower, Davis, Spector, Lund and Shewalter)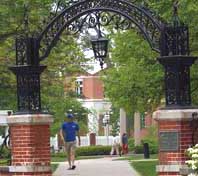 Since its inception, the Lund program has now awarded a total of 28 scholarships.
The Lunds were joined by several members of the Lund Scholarship Committee, including Ed Gower '77, Scott Shewalter '77 and Glenn Davis '79. About a dozen DePauw faculty members also attended the scholarship dinner.
"My father was a Rector Scholar at DePauw, and without that money could not have attended this University," added Larry Lund. "His gifts ensure that the students of today and tomorrow can enjoy similar opportunities at this institution that he so loved."
Back