Coach Adam Cohen '89 Leads Effort to Explore Creation of a Putnam County Community Center
April 11, 2007

April 11, 2007, Greencastle, Ind. - "I know this idea has been around for a long time, but I think now maybe the stars are aligned for us to be able to do it," says Adam Cohen of creating a community center for Putnam County. Cohen, head men's swimming coach at DePauw University, is chairing a committee that is examining the possibility of building a center for local residents.
A story in the Banner-Graphic notes that "Greencastle doesn't have a lot of places for indoor activities right now and that a community center would fulfill that need. Cohen, who works at DePauw University and spends a lot of his time at the Lilly athletic center, said there is a waiting list of approximately 100 people in the community hoping for memberships into that facility. He said the Lilly Center is simply not large enough to support the community at large and serve the students at the same time."
The article by reporter Adam Coates -- which details a Monday night meeting -- continues, "Cohen told the crowd of several dozen people that the average price to construct a similar facility was between $3 million and $7 million, with an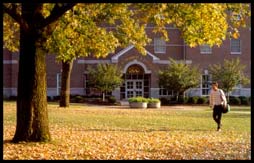 average annual operational cost of $700,000." Cohen, who also serves as aquatics director, NCAA compliance officer and part-time instructor of kinesiology at DePauw, earned a master's degree from DePauw in 1989. He says of a community center, "I think the people really want it. I think the question is always how to pay for it."
Access the complete text at the newspaper's Web site.
Back