Tiger Assistant Named Head Swimming & Diving Coach at Coe College
April 13, 2007
April 13, 2007, Greencastle, Ind. - "Justin Jennings, has been named the head men's and women's swimming and diving coach at Coe College," reports Swimming World magazine. "Jennings spent the past two seasons as an assistant at DePauw University. During his time at DePauw, he coached multiple athletes to 24 school and conference records, as well as the SCAC Championships in 2006 and 2007," adds the article.
"We are excited to have Justin on our athletics staff," says John Chandler, director of athletics at Coe. "He will bring a great deal of knowledge and enthusiasm to our swimming and diving programs."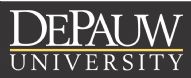 The story also points out, "Before his stint at DePauw, he was an assistant coach at Carthage College." In his new post, Jennings will also serve as director of the Coe Natatorium.
Read more by clicking here. Learn more about DePauw's athletic programs here.
Back