Praise for New Book by Barbara Kingsolver '77 -- Animal, Vegetable, Miracle -- In Stores May 1
April 15, 2007
April 15, 2007, Greencastle, Ind. - "Novelist Barbara Kingsolver's Animal, Vegetable, Miracle: A Year of Food Life -- about her family's move from Tucson to a farm in Appalachia, where they learn to grow their own food -- is due out later this spring," notes the Canadian Broadcasting Corporation. The May issue of Outside magazine also previews the book, in which "Barbara Kingsolver dives into the local-foods movement." The latest work by Kingsolver, a 1977 graduate of DePauw University, will be published by HarperCollins and is due in bookstores May 1.
"Kingsolver's passionate new tome records in detail a year lived in sync with the season's ebb and flow," writes Mark Knoblauch in Booklist. "Starting with spring's first asparagus, summer's chickens, and the fall's surfeit of vegetables, Kingsolver's family consumes what
they and their farming neighbors produce. Writing with her usual sharp eye for irony, she urges readers to follow her example and reconnect with their food's source."
Publisher's Weekly opines, "Michael Pollan is the crack investigator and graceful narrator of the ecology of local food and the toxic logic of industrial agriculture. Now he has a peer." The review by Nina Planck, author of Real Food: What to Eat and Why, states, "Kingsolver takes the genre to a new literary level; a well-paced narrative and the apparent ease of the beautiful prose makes the pages fly. Her tale is both classy and disarming, substantive and entertaining, earnest and funny ... Kingsolver has the ear of a journalist and the accuracy of a naturalist. She makes short, neat work of complex topics: what's risky about the vegan diet, why animals belong on ecologically sound farms, why bitterness in lettuce is good."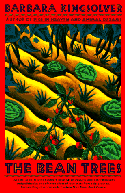 Pre-order Animal, Vegetable, Miracle at Amazon.com and Barnes & Noble.com.
Kingsolver will embark upon a brief tour of the nation to promote her book, beginning May 1 at the National Cathedral in Washington, D.C. View the schedule at the publisher's Web site.
A zoology major at DePauw, Barbara Kingsolver's books include the Pulitzer Prize-nominated The Poisonwood Bible, Prodigal Summer, The Bean Trees, Small Wonder and Last Stand: America's Virgin Lands, a collaboration with National Geographic photographer Annie Griffiths Belt. A recipient of the National Humanities Medal in 2000, she has also contributed to a number of other books, including Home Ground: Language for an American Landscape. Read the author's reflections on her years at DePauw here.
Back