Katie Couric Must Share Blame in Plagiarism Case, Says Media Ethicist Bob Steele '69
April 16, 2007
April 16, 2007, Greencastle, Ind. - An essay delivered by CBS anchor Katie Couric on the network's Web site -- portions of which were apparently lifted from a Wall Street Journal column -- led to the dismissal of the producer who wrote the piece, and is generating comment. "It is common practice for network anchors to depend on the assistance of producers and writers," notes a story at ABC News.com. "But Bob Steele, the director of ethics in journalism at the Poynter Institute, emphasized that the fault lies with Couric as well as her producer."
Steele, a 1969 graduate of DePauw University, says, "If we misappropriated the work of someone else, when we plagiarize, we should say that we plagiarized. But the journalist whose name is on it is still responsible."
CBS issued an apology to Jeffrey Zaslow, who authored the Journal's column, fired the producer who wrote the text that Couric delivered, and announced new policies for reviewing the work of its producers. On the anchor's blog, CBSposted, "Much of the material in the 'Notebook' came from Mr. Zaslow, and we should have acknowledged that at the top of our piece. We offer our sincere apologies for the omission."
ABC News.com's Marcus Barum writes, "Specialists in journalist ethics were a little more critical of the network's reaction, explaining that the editor's note cited the lack of attribution as the major fault of the essay without emphasizing that there was plagiarism involved."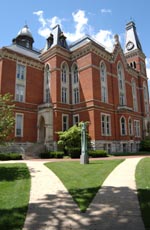 Steele explains, "When we make mistakes, we should be accountable for those mistakes and we should be forthright in our accountability."
Read the complete story by clicking here.
Bob Steele was also quoted in coverage of the controversy over remarks by radio talk show host Don Imus. Steele told the Philadelphia Inquirer, "From my perspective, what Imus has done is a very grave ethical and professional failure."
Steele and William F. Welch '40 will receive honorary degrees at DePauw's 168th annual commencement, Sunday, May 20, 2007. Learn more about the two recipients in this previous article.
Back