Prindle Institute for Ethics Announces First Nancy Schaenen Visiting Scholar
April 17, 2007
April 17, 2007, Greencastle, Ind. - Alyssa Bernstein, an assistant professor of philosophy at Ohio University, has been awarded the first Nancy Schaenen Visiting Scholar Award for Residency at DePauw University's Janet Prindle Institute for Ethics. While at DePauw, Bernstein will write a book on contemporary philosophical conceptions of human rights, focusing on John Rawls's Law of Peoples and its main competitors.
"I am honored, thrilled, and delighted to receive the Nancy Schaenen Visiting Scholar Award," says Professor Bernstein. "The prospect of working on my book about human rights and global justice while taking part in the activities of DePauw's Janet Prindle Institute for Ethics greatly appeals to me. I anticipate that I will enjoy as well as benefit from discussing my work with interested students as well as faculty colleagues at the Institute, at the philosophy department, and in the broader DePauw intellectual community."
Before joining the faculty of Ohio University, Dr. Bernstein was a Fellow of the Carr Center for Human Rights Policy at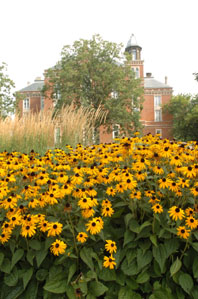 Harvard University's Kennedy School of Government. Her main areas of research and writing are human rights, global justice, social contract theory (contractarianism and contractualism) and Kant's ethics and political philosophy.
Bernstein has a Ph.D. in philosophy from Harvard University, where she held a Mellon Fellowship in the Humanities and was a Graduate Fellow at the Harvard Center for Ethics. Prior to Harvard, she spent a year as a Fulbright Scholar in Jerusalem studying Judaism, Islam, and Christianity.
Read more by clicking here.
John K. Roth will serve as the Robert and Carolyn Frederick Distinguished Visiting Professor of Ethics at DePauw University during the 2007-08 academic year. Dr. Roth is the Edward J. Sexton Professor of Philosophy at Claremont McKenna College, where he is the founding director of the Center for the Study of the Holocaust, Genocide, and Human Rights. He also serves on the faculty of Claremont Graduate University. Read more here.
"Dr. Bernstein will be an exceptional complement to Dr. John Roth and in tandem they will provide a richness of outside ideas and perspectives which will enliven the first year of programs at the Janet Prindle Institute for Ethics," says Neal B. Abraham, executive vice president of DePauw. "Her educational and scholarly background and her teaching and research interests will be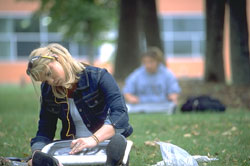 valuable to many students and faculty members interested in social justice ethical issues. We are particularly grateful to the Schaenens for providing the generous support for this position which attracted a pool of highly qualified applicants from across the nation from which Dr. Bernstein was selected."
A gift from Janet W. Prindle '58 is funding construction of the Janet Prindle Institute for Ethics that will enhance teaching, learning and research in ethics at DePauw. The institute is located within the DePauw University Nature Park.
Learn more in this previous story, or at the Institute's Web page.
Back