Prof. Nicole Brockmann Presents Viola Recital Thursday Night
April 15, 2007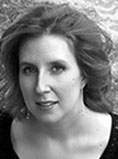 April 15, 2007, Greencastle, Ind. - Violist Nicole Brockmann, a professor in the DePauw University School of Music, will present a faculty recital this Thursday, April 19, at 7:30 p.m. Entitled "Mostly French Music for Viola," the program will also feature accompanists Darcy McCoy and Stephanie Gurga, both on piano. The performance will be held in the Performing Arts Center's Thompson Recital Hall and is free and open to the public.
Among the French viola music noted in the title, Brockmann will be playing Darius Milhaud's Sonata #1 for Viola and Piano, as well as Durufle's Prelude, Recitatif, et Variations for Flute, Viola, and Piano. Brockmann will also be joined by flautist Corinna Nash-Wnuk,cellist Eric Edberg, as well as DePauw students Amanda Fisher, Siobhan Lau, and Kelly Houpt.
Dr. Brockmann has been a member of many professional chamber
ensembles including the Brooklyn Chamber Players, the Lumina String Quartet and the West Virginia Piano Quartet. She has taught and performed professionally at many summer music festivals and acted as Principal Viola of the Greater Bridgeport Symphony Orchestra (Connecticut) for three years. In addition to her studio work, Brockmann is president of the Dalcroze Society of America and a frequent contributor to the American Dalcroze Journal.
Visit the DePauw University School of Music online by clicking here.
Back