Robert G. Bottoms, DePauw's President Since 1986, Announces Retirement Plans
April 19, 2007
Video Clips from News Conference with Student Journalists:

[Download Video: "Dr. Bottoms on Timing" - 737kb];

[Download Video: "Transitioning" - 2409kb];

[Download Video: "Coming Full Circle" - 1233kb]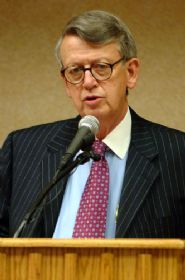 April 19, 2007, Greencastle, Ind. - Robert G. Bottoms, who has served longer than any president in the 170-year history of DePauw University, will retire from the position at the conclusion of the 2007-08 academic year and become Chancellor of the University. Dr. Bottoms announced his intentions today to DePauw's Board of Trustees, which began its spring meeting on the Greencastle campus. DePauw's eighteenth president, Bottoms has led the University since 1986.
"I have great love for this college and its people, but after 21 years in this position, I feel the time is right to make this move," says Bottoms. "Being a college president is a very rewarding, yet personally demanding job. I look forward to spending more time with my wife, Gwen, and our children and grandchildren. And, of course, I will remain engaged in the life of the University as Chancellor."
In that role, Bottoms will oversee the Janet Prindle Institute for Ethics. He also plans to
author a book on leadership.
The president began discussing his future plans with the Board of Trustees at last year's spring meeting, talks that continued at the January retreat in Florida.
"Bob has made his decision to retire as president and assume a new role as chancellor with the same professionalism and dedication to DePauw that has characterized every aspect of his remarkable tenure," says James B. Stewart '73, the Pulitzer Prize-winning journalist and author who has chaired DePauw's Board of Trustees for the past three years. "He leaves the University immeasurably stronger than when he came and in a position to attract an outstanding successor. We are fortunate indeed to have his continued leadership, wisdom, energy and friendship as DePauw embarks on this important transition."
Stewart has formed a committee of Trustees who will begin the search for Bottoms' successor immediately.
During Bottoms' tenure at the helm of DePauw, the University has become a national, top-tier liberal arts college, and an institution with much more diversity and resources: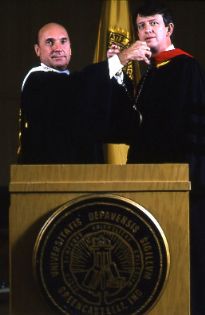 Currently, 14% of DePauw's faculty members are minorities, up from 3% in 1986.
Sixteen-point-four percent of DePauw's students today are from diverse cultural backgrounds; it was 3.5% when Bottoms assumed the presidency.
DePauw became the first college in the nation to host two Posse groups (from New York and Chicago). A youth leadership development and college access organization, the Posse program sends highly qualified students from diverse backgrounds to selective colleges and universities throughout the country.
"I don't think the University would have made the progress it has over the past two decades if we hadn't made our community more reflective of the world our graduates live in," says Bottoms. "Our commitment to make our campus more diverse -- racially, economically, culturally, and now,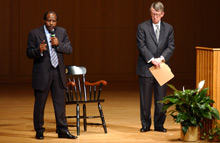 internationally -- serves to create informed citizens of the world who will be the change agents of generations to come." (at left: with Paul Rusesabagina, the hero of Hotel Rwanda, 4/25/2005)
Another priority that Dr. Bottoms announced in his 1986 inaugural address was that the University focus on science education. During his tenure, the Olin Biological Sciences Building was constructed, the Julian Science and Mathematics Center was renovated and expanded, and the Manning Environmental Field Station was erected in the DePauw Nature Park (which itself opened in 2004 and also includes outdoor laboratories for faculty-student research). Research grants to DePauw faculty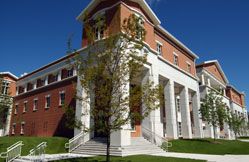 have dramatically increased in recent years and the University's technology initiatives have received national awards.
Thirdly, Bottoms initially vowed to enhance moral reflection at DePauw. The 2005 announcement of the aforementioned Prindle Institute for Ethics is only the most recent example of DePauw's determination to better equip students with critical thinking skills. The Hartman Center for Civic Education and Leadership enables over one thousand DePauw students each year (almost half of the student body) to become involved in community service activities. A United Methodist Council was established to monitor religious programming for students and maintain DePauw's historic relationship with the United Methodist Church, and the John Alford '35 Fund for Moral Reflection provides opportunities for the University to host special programs and speakers designed to enhance the moral development of undergraduates. (below right: with Margaret Thatcher, 4/7/1992)
A product of the Greek system himself, President Bottoms called upon the University community last spring to strengthen its fraternities and sororities, a process that will result in votes by the Board of Trustees tomorrow.
Between 1986 and the present, DePauw has seen growth in a number of key areas:
Applications totaled 2,155 in 1986; the 2006-07 figure was 4,182.
Total endowing resources have grown from $83.2 million when Bottoms assumed the presidency to the December 31, 2006 level of $521.9 million.
Approximately $190 million has been invested in new and renovated buildings and improvements to the campus infrastructure. Key projects include: The Pulliam Center for Contemporary Media, Rector Village, the indoor tennis and track center, new duplexes for students, and the current construction of the Janet Prindle Institute for Ethics, and expansion and renovation of what will be known as the Judson and Joyce Green Center for the Performing Arts.
Annual gifts to DePauw, which totaled $12.7 million in 1986-87, almost tripled to $31.5 million in 2005-06. All told, more than $550 million has been raised for the University since Bottoms became president.
One gift that President
Bottoms is particularly proud of -- from Philip Forbes Holton '29 and Ruth Clark Holton '29 -- "changed the University," he says. The Holtons, who attended DePauw but did not graduate from the University, left more than $128 million for scholarship endowment. The Holton gift, which was received in 1998, fueled alumni giving that pushed The Campaign for DePauw: Leadership for a New Century to a final total of more than $376 million -- at the time, the largest campaign total achieved by a liberal arts college in the United States.
On the twentieth anniversary of President Bottoms' inauguration, Indiana Governor Mitch Daniels noted, "DePauw was blessed the day Bob Bottoms agreed to become its president. How incredibly fortunate the school has been, therefore, to have him at its helm for two decades. Every Hoosier community has -- in one way or another -- shared in that good
fortune, and they join the DePauw community in thanking Bob." Deborah Bial, president and founder of the Posse Foundation, added, "Dr. Bottoms is a man with vision for a society less divided, an American community less blinded by bias. He has worked both openly and in very subtle ways to build a more enlightened population of young people. Because of him, thousands of young people -- and hundreds of Posse Scholars -- have had their lives changed for the better, forever."
A native of Birmingham, Alabama, Dr. Bottoms earned his bachelors degree at Birmingham-Southern College, a bachelor of divinity degree at Emory University, and his doctorate at Vanderbilt University.
His career in higher education began when he was appointed chaplain and assistant to the president at Birmingham-Southern College. He later moved to the Vanderbilt Divinity School as assistant dean and assistant professor of church and ministry. In 1978, DePauw University selected Dr. Bottoms as its vice president for University Relations; he subsequently
advanced to executive vice president of the University before being named president in 1986, succeeding Richard F. Rosser.
Since 1996 DePauw has partnered with the aforementioned Posse Foundation. President Bottoms was named a "Posse Star" in 2004. He was the 2000 recipient of the CASE V Chief Executive Leadership Award. In September 2002, the Chronicle of Higher Education cited Dr. Bottoms as one of America's long-term college presidents who have had both staying power and success. (at left:with Mikhail Gorbachev, 10/27/2005)
Robert Bottoms has had national influence on issues of education and leadership through his service on the boards of the Posse Foundation, Seabury-Western Theological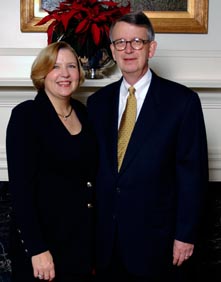 Seminary in Chicago, the Joyce Foundation in Chicago, and the Center for Leadership Development in Indianapolis. In addition, Dr. Bottoms has been a consultant to the Lilly Endowment, the Arthur Vining Davis Foundations and the Fund for Theological Education. The president has written articles and opinion pieces for the New York Times, Indianapolis Star and Chicago Tribune, and appeared on NBC's Today.
Married for almost 39 years to Gwen Vickers Bottoms, the couple has two children and two grandchildren.
"DePauw has been a primary source of meaning for my life and it will continue to be," Bottoms said today. "History can judge what kind of a president I have been for this institution, but of one thing I am certain -- I have been honored to serve."
Back