R. David Hoover '67 Elected to Chair DePauw Trustees; Board Considers Housing Standards Tomorrow
April 19, 2007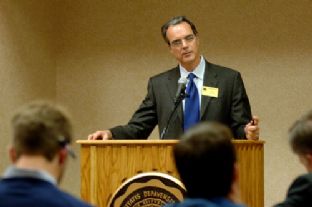 April 19, 2007, Greencastle, Ind. -

[Download Audio: "Elegant and Workable Solution" - 449kb] "I'm very pleased," James B. Stewart '73, chair of the DePauw University Board of Trustees, says of the results of the year-long review of DePauw's Greek system. Stewart spoke with student journalists this afternoon as the Trustees wrapped up the first of their two days of meetings. Tomorrow, the panel will vote on new housing standards for all Greek and University-owned living units and other items that stem from the process that was launched last spring.
"What seemed like a very thorny and, at times, intractable problem has yielded a very elegant and workable solution that is incredibly constructive and is also going to meet with a lot of support," predicts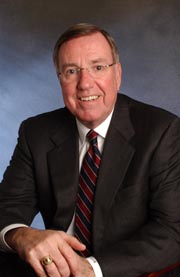 Stewart, a Pulitzer Prize-winning investigative journalist and author. "I think it both sets standards that we all recognize we need at DePauw University -- it creates a practical way to reach those standards -- and I think, most importantly, it creates an extremely flexible standard so it is not trying to impose any one solution on any one living unit. It really... accommodates differences."
Details will be posted after tomorrow's vote.
Board members today elected R. David Hoover (pictured at right) as their new chair to replace Stewart, whose three-year term expires at the end of the meeting. Hoover, chairman of the board, president and chief executive officer of Ball Corporation, is a 1967 graduate of DePauw. After receiving a bachelor's degree in economics from DePauw, in 1970 Hoover earned an M.B.A. in finance and real estate from Indiana University - Bloomington. In 1988, he completed the Advanced Management Program at Harvard University's Graduate School of Business.
Hoover serves on a number of other boards, including: Energizer Holdings, Inc.; National Association of Manufacturers; Irwin Financial Corporation;
Qwest Communications; Boulder Community Hospital; and the University of Colorado at Denver Business School.
Stewart discussed the "exciting opportunities" for students that are created by a gift from fellow Trustee Steven Trulaske '79 and his wife Michelle, which was announced during today's board session. Information on the Steve and Michelle Trulaske International Scholarship Fund can be accessed here.
The outgoing board chair called today's announcement by Robert G. Bottoms that he will step down as DePauw's president in the summer of 2008 after 22 years of service "bittersweet," noting that the "sweet part" is that

[Download Video: "James B. Stewart on President Bottoms" - 1104kb] "Bob has chosen an ideal time to make this move.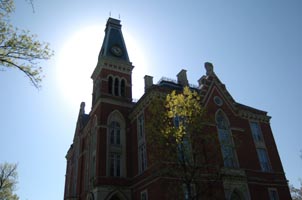 He leaves the University in immeasurably better condition than when he arrived."
Stewart announced that Sarah Reese Wallace '76 will lead a committee of Trustees which will search for Dr. Bottoms' successor, and vowed that the process will be "comprehensive and inclusive."
He added,

[Download Audio: "A Strong Position" - 137kb] "I've been close to some other recent searches in universities and I said to the board today that, you know, thanks to Bob I think we're in an incredibly strong position when we set to find a new president. I'm very optimistic that we're going to attract outstanding candidates."
Back