Training Mission Key to Success in Iraq, Asserts Lee Hamilton '52
April 24, 2007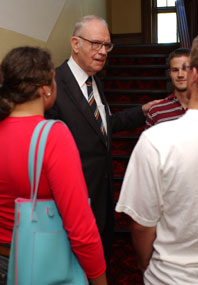 April 24, 2007, Greencastle, Ind. - "To maximize our chances of achieving stability in Iraq, the training of Iraqi security forces should become the primary mission of U.S. forces in Iraq," writes Lee H. Hamilton in the Indianapolis Star. A former congressman who co-chaired the Iraq Study Group and is a 1952 graduate of DePauw University, Hamilton continues, "Whether you support the president's policy or a timeline for troop withdrawals, the training mission should be paramount. Whether our troops leave sooner or leave later, stability requires trained Iraqi security forces to take their place. The more effective the training mission, the sooner U.S. forces can leave -- and the better our chance to leave behind a measure of stability." (at left: Hamilton speaking with DePauw students during an appearance on campus)
A veteran of 34 years in the House of Representatives, Hamilton observes, "Our record on training has not been good," but adds, "the training mission has improved considerably over the past year." He asserts, "Some 331,000 Iraqi security personnel have completed basic training. What they now need is supervised on-the-job training as they conduct field operations. All observers acknowledge that Iraqi units perform better when U.S. forces are present. On-the-job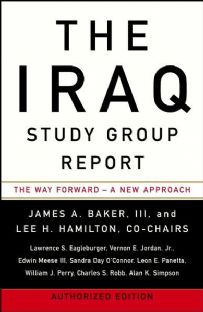 training is best done by embedding more U.S. military personnel in Iraqi deployed units. This process is occurring in Baghdad and elsewhere and is part of our current strategy, but there is no indication -- in official statements, the allocation of resources, or reports from the field -- that it is our top priority."
Hamilton, who served as vice chair of the 9/11 Commission and was recently appointed to a War Powers Commission, outlines "clear steps" that he believes the U.S. needs to embrace to succeed. "The most highly qualified U.S. officers and military personnel should be assigned to the training mission, with American teams present with Iraqi units down to the company level ... There are many tasks on the 'to do' list in order to bring some stability to Iraq. They include national reconciliation by Iraq's leaders, comprehensive diplomacy to engage Iraq's neighbors, and building the capacity of Iraqi Ministries to function effectively as a government. All these tasks are necessary, but they are not sufficient unless there is also progress on security."
In conclusion, the Democrat states, "Indeed, if there is one thing the President and the Congress should be able to agree on, it is the central importance of the training mission: this is our best shot at creating lasting security and withdrawing U.S. forces responsibly. Iraqi soldiers and police are far more numerous than U.S. forces. They know their country. They will be there for the long haul. There is no path to an orderly and responsible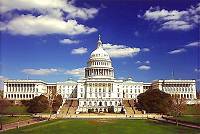 transition of U.S. forces out of Iraq unless training becomes our primary mission."
Read the complete essay at the Star's Web site.
Lee Hamilton discussed his DePauw experience in a recent interview. He is a frequent visitor to the DePauw campus, and in October 2006 discussed the Iraq war and other matters at DePauw Discourse 2006: Issues for America. Access a story -- including video and audio clips -- here.
Back