DePauw Again Among America's Best Value Colleges; East College Remains on Book's Cover
April 24, 2007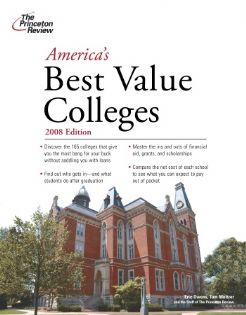 April 24, 2007, Greencastle, Ind. - Students who graduate from DePauw University "will leave with a strong liberal arts education and will have endured a challenging, heavy workload," states America's Best Value Colleges: 2008 Edition. The book, published by the Princeton Review, again lists DePauw as one of 165 colleges offering excellent academics, generous financial aid packages and relatively low costs. For a second consecutive year, DePauw's historic East College is pictured on the front cover of the publication, which cites the University's "demanding academics" and "highly selective" admission standards. The guide's editors note that "DePauw is especially strong in the area of merit-based awards."
Princeton Review selected the schools for the book based on data it obtained from administrators at more than 650 colleges during the 2005-06 academic year, and its surveys of students attending the schools.
"We considered over 30 factors to identify
our 'best value' colleges," says Robert Franek, Princeton Review's vice president-publishing. "They covered four areas: academics, tuition GPA (the sticker price minus average amount students receive in scholarships and grants), financial aid (how well colleges meet students' financial need), and student borrowing. The 90 public and 75 private colleges we chose for this edition offer a terrific education, plus they have impressive records of meeting students' needs for financial aid."
"Undergraduates stream here for first-rate programs in business, which include the Management Fellows Program with its coveted internship opportunities," the book's editors write of DePauw. "They're also drawn by top departments in computer science and technology, media studies, the sciences, and music ... Small, discussion-based classes are led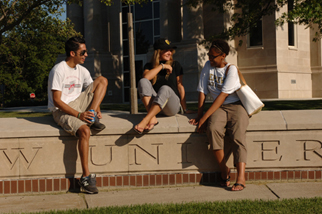 by professors who hold their pupils firmly to high academic standards," the book states.
"Standard & Poor's ranks the school eighth among over 800 liberal arts schools as a producer of top business executives," notes the text, adding, "DePauw's alumni rolls are crammed with famous folks. Among the best-known: former Vice President J. Danforth Quayle ['69]; civil rights leader Vernon Jordan ['57]; former U.S. House member and vice chair of the 9/11 Commission Lee Hamilton ['52]; ESPN founder Bill Rasmussen ['54]; Nitty Gritty Dirt Band member Jimmy Ibbotson ['69]; and novelist Barbara Kingsolver ['77]."
Pointing out that the Society of Professional Journalists was founded on the DePauw campus in 1909, the book also describes the University's "rich tradition of graduating some of the nation's top journalists.
Their ranks include: Bernard Kilgore ['29]; the former managing editor of the Wall Street Journal; John McWethy ['69], former ABC News chief national security correspondent; Pulitzer Prize-winning investigative journalist and author James B. Stewart ['73]; and Bret Baier ['92], FOX News chief White House correspondent."
Learn more about America's Best Value Colleges: 2008 Edition, and order the book, at Amazon.com and Barnes & Noble.com.
The April edition of Kiplinger's Personal Finance ranks DePauw University among the 50 liberal arts colleges in the United States that represent a "best value." The 2007 edition of U.S. News & World Report's "America's Best Colleges" lists DePauw University in the top tier of national liberal arts colleges for a seventh consecutive year. "DePauw is a midwestern match for many more expensive, small, private East Coast Colleges," asserts Barron's Best Buys in College Education. DePauw is again among the The Best 361 Colleges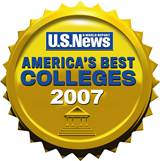 in Princeton Review's 2007 guide, released last summer.
The 2006 National Survey of Student Engagement (NSSE), released in November, found that the experiences of students at DePauw are significantly more challenging, stimulating, interactive and dynamic than those provided at peer institutions and the national average of all colleges and universities. The University performs especially well in the areas of level of academic challenge, active and collaborative learning, student-faculty interaction, enriching educational experiences. (at right: For One More Day author Mitch Albom signs books after delivering an Ubben Lecture at DePauw, 11/13/2006)
The College Prowler guide states, "DePauw is definitely home to the quintessential college experience." The University was among the "50 Best Colleges" featured in the October 2006 issue of CosmoGirl magazine. The Advocate College Guide for LGBT Students ranks DePauw among America's best 100 campuses for lesbian, gay, bisexual and transgender students.
Prospective students who would like more information on DePauw University, including access to an online application form, can click here.
Back