Two Ensembles Join DePauw Chamber Singers at Tuesday Concert
April 21, 2007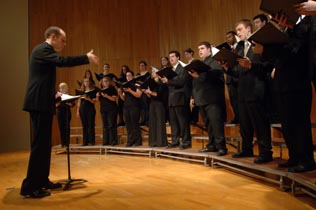 April 21, 2007, Greencastle, Ind. - On Tuesday, April 24, at 7:30 p.m., the DePauw University Chamber Singers will be joined by the DePauw Sinfonia and Vox Musae in a performance of Handel and Monteverdi, under the direction of Gabriel Crouch. The concert, the Chamber Singers' final performance of the year, will take place in the Performing Arts Center's Thompson Recital Hall and is free and open to the public.
Handel's Dixit Dominus is an explosion of genius, composed by a young man (Handel was 22 at the time) intent on announcing his brilliance to his new patrons in Rome. No other oratorio of its kind sets such exhilirating challenges on the stamina and virtuosity of the voice, and Handel makes no compromise whatsoever in capturing the intensity, and often the brutality of the text.
The choir will be joined by a small instrumental
group, The DePauw Sinfonia, consisting of DePauw School of Music faculty, together with guests and students.
Preceding the Handel performance will be the debut performance by DePauw's early music vocal group, Vox Antiqua. The five-voice student group will perform Monteverdi's six-movement dramatic madrigal Lagrime d'Amante, taken from the composer's sixth book of madrigals. Vox Antiqua performs a cappella, and is also directed by Professor Crouch.
Visit the DePauw School of Music online by clicking here.
Back