Senior Awarded Governor Bob Orr Indiana Entrepreneurial Fellowship
April 24, 2007
April 24, 2007, Greencastle, Ind. - DePauw University senior Emily M. Young is the recipient of a 2007 Governor Bob Orr Indiana Entrepreneurial Fellowship. With the award, announced today, Young joins twelve other spring 2007 graduates from a total of 10 Indiana colleges and universities who will spend the next two years working for some of the state's leading entrepreneurial companies.
Young will earn degrees in economics and mathematics in May, and has accepted a position with DyKnow in Indianapolis. "The Orr Fellowship is a great building block for the start of my career," she says. "I have aspirations of owning my own business and the fellowship will only better my understanding of entrepreneurship."
Since its inception in 2001, the Orr Fellowship has worked to keep Indiana's best and brightest graduates in the state. The program has placed 54 graduates in leadership-track positions at 19 Indiana companies in the past six years.
The 2007 Orr Fellows competed against hundreds of applicants in a five-month process that included interviews by Orr Fellow company executives. Fellows are judged on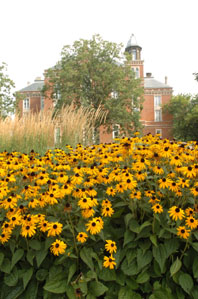 academic performance, extracurricular involvement, demonstrated leadership potential, and previous job experiences. In their new positions, Fellows will complete challenging projects and work closely with company executives; attend monthly meetings with Indiana's most accomplished business leaders and participate in various philanthropic events and educational seminars.
The program is named for former Indiana Gov. Robert Orr, who served from 1981-1988 and was known for his emphasis on increasing entrepreneurial opportunities in the state. The fellowships offer challenging positions and interaction with senior leadership at sponsoring Indiana companies, which prepares Fellows for a variety of career options. This applied experience is coupled with external group activities, including monthly meetings with Indiana's top business leaders and other social and community service related activities. The Orr Fellowship seeks to retain Indiana's top graduate talent and help sustain Indiana's economy.
Learn more by clicking here or at Inside Indiana Business.com.
Back