Prof. Jeff McCall '76 Analyzes Move to Regulate Violent TV Programs
April 28, 2007
April 28, 2007, Greencastle, Ind. - "The Federal Communications Commission has released a report that should finally get the attention of the television industry with regard to the amount and type of violence portrayed in our living rooms," writes Jeffrey M. McCall in today's Indianapolis Star. "The FCC is recommending that television violence be regulated in much the same way it regulates indecency. In Congress, Sen. Jay Rockefeller, D-W.Va., is ready to lead a bipartisan group to enact the FCC's recommendations," continues the op-ed by the professor of communication at DePauw University.
"Media industry executives have responded to the FCC report by acting shocked and innocent, trotting out the same tired, flimsy arguments that blame everybody except themselves," observes Dr. McCall. "They blame parents for not controlling what their kids watch ... claiming that producers simply give the audience what it wants. This argument overlooks the key role that producers play in shaping that audience demand. Viewers do share some responsibility for what gets programmed. Network executives, however, ultimately make the decisions for what is appropriate, and their decisions serve to condition the public as to what appropriate
standards are."
A 1976 graduate of DePauw, Jeff McCall is author of the soon-to-be-released book, Viewer Discretion Advised: Taking Control of Mass Media Influences. He opines, "Regulating violent content will be tricky and difficult, but as FCC commissioner Michael Copps said, that difficulty 'should not take this off the table.' The government already has in place multiple regulations that control broadcast content and have passed court tests -- such as those covering kids' television, political broadcasting, advertising, hoax announcements and indecent content. The courts have clearly said that the broadcast media are not to be considered a First Amendment free-for-all. Carefully defined controls on violent content should well pass muster when the eventual court challenges are made."
He adds, "Beyond the legal arguments, however, broadcasters should make a distinction between what they have a constitutional right to do and what is the right thing to do. A society is defined by the stories it tells. Television executives can play a positive role in that definition. Excessive and unnecessary violence can be excluded from the airwaves, especially when younger viewers are likely. Those dramas for which violence is a relevant component can be delivered in a sensible context and with appropriate tact."
In conclusion, the professor -- a frequently quoted expert on media matters -- asserts, "The entertainment community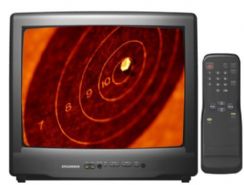 surely has talented writers and executives capable of making these decisions. Had there been more responsible broadcast leadership over the years, the industry wouldn't now be faced with the prospect of congressionally mandated FCC regulation of violent content."
Read the complete essay at College News.org.
Professor McCall recently wrote a column on the prospect of television cameras in the United States Supreme Court. Access it via this previous article.
Source: Indianapolis Star
Back