Almost $218K Raised by 2007 Relay For Life; There's Still Time to Donate
April 29, 2007
Relay For Life Registration/Donations; View Photo Gallery;

[Download Video: "A Look at the 2007 Relay" - 4610kb]
April 29, 2007, Greencastle, Ind. - With donations still coming in, the 2007 Putnam County Relay For Life has collected $217,670 -- about four thousand dollars more than last year as the event ended. "Money will continue to come in, as has been the case each year," says DePauw senior and event co-chair Kyle Hawkins. "The books don't close until August 31, and we want people to know there's still time to make a difference in the fight against cancer."
Hundreds of pirates gathered Saturday at noon at DePauw University's Blackstock Stadium -- not to raid and plunder, but to raise vital funds for the American Cancer Society. The 2007 Putnam County Relay For Life, a 24-hour walk, began at noon with a theme of "Make Cancer Walk the Plank."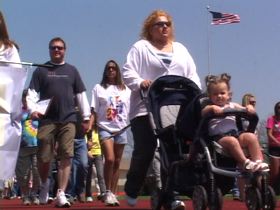 The 2007 edition of Relay has already set several records. A total $36,000 was collected from sponsors, bettering last year's $33,500. There were 121 cancer survivors at the event, eleven more than 2006. The total of teams was just shy of 200 (196), and approximately 2,000 people walked during the round-the-clock fundraiser.
"For the past, at least, three years I know the weather has been absolutely terrible -- last year was freezing and raining -- but today is beautiful," said Hannah Marston, a DePauw junior and co-chair of Relay For Life, moments before the opening ceremonies began Saturday. "I've been checking the weather obsessively for three weeks now," she joked under sunny, blue skies and a tempertature of around 70 degrees.
"Today and tomorrow really is the culmination of thousands of hours of manpower put into this event," added Hawkins, the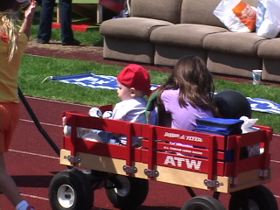 other co-chair. "We have about 45 committee members who put in anywhere from five-to-ten hours a week," he pointed out.
"I think it is the one event that I can say that the University and the community can wrap ourselves around," says Greencastle Mayor Nancy Michael, who was among the first walkers on the Blackstock Stadium track. "People are so relaxed and [happy to support] a cause that they feel passionate about and they believe in. And it's the one time it doesn't matter who you are, where you come from, what your status in life is. Everybody lays down and we're all equal."
The DePauw-hosted event has consistently won awards for being among the best of its kind among American colleges and universities. Last year's Relay For Life raised approximately $220,000 for the fight

against cancer. The fundraiser was first held in 1996 and raised nearly $15,000. The total grew to approximately $30,000 by 1999 and $42,000 in 2000. Then, 2001 brought in $80,000; followed by $127,000 in 2002; more than $162,000 in 2003; 2004's $208,735; and a 2005 total of more than $230,000.
As noted above, you can support Relay For Life by making a donation online. For details click here or send an e-mail to relayforlife@depauw.edu.
Back