Traffic to This Site Eclipses 21.5 Million 'Hits' for First Time
May 1, 2007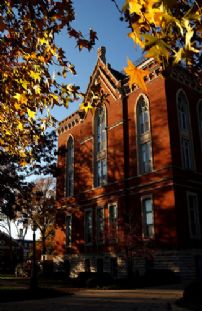 May 1, 2007, Greencastle, Ind. - This Web site accumulated more than 21.5 million hits for the first time in April, in a record-setting month that also saw unique visitors grow by more than 60% year-over-year. DePauw.edu now gets as much traffic in one day as it did over the course of an entire month seven years ago.
The "hits" total eclipsed the previous all-time high of 21,460,584 set in February. Unique visitors climbed to 330,915 from last April's 201,422, but was short of March's record total of 393,159 (when highs were also established for "visits" [1,293,553] and "page views" [4,463,085]).
"It has been very exciting to watch the growth of the DePauw Web site over the past seven years," says says Daniel J. Pfeifer, the University's chief technology officer. "Our goal was and continues to be to communicate the dynamic experience that students, faculty, staff, alums and parents enjoy. As our hit counts grow, we want to continue to be informative and engaging to broader and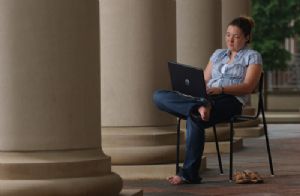 broader audiences."
"We had two days with more than a million hits last month," notes Ken Owen '82, director of media relations, who, along with sports information director Bill Wagner, creates the news and athletic updates on the site. "To put that in perspective, in all of April 2000 this site received 1.3 million hits."
Noting that the "unique visitor" statistic counts each computer that visits the site only once each month, Owen continues, "Our unique visitors have increased more than tenfold since 2001. If you count all the people in the DePauw family -- students, faculty and staff members, alumni and parents -- our total potential audience is probably around 36,000 unique visitors. The numbers confirm what the phone calls I receive suggest -- that many, many people from around the nation and the world are finding something that interests them via an Internet search or a friend and it is leading them to DePauw."
The news section of DePauw.edu continues to attract the most traffic. One hundred twelve news stories were posted in April, with the most widely read including: the
announcement by DePauw President Robert G. Bottoms that he intends to step down from the post next year; the approval of new housing standards for all living units at DePauw -- both Greek and University-owned -- by the Board of Trustees; a major gift by Steven L. Trulaske '79 and his wife Michelle which will support international studies at DePauw; announcements that seniors Nishita Trisal and Michael Roberts are recipients of international graduate study and research grants through the 2007-08 Fulbright U.S. Student Program competition; the appointment of Brad Stevens '99 as Butler University's head men's basketball coach; DePauw again being featured in America's Best Value Colleges: 2008 Edition; the unveiling of a new video version of The Ballad of the Monon Bell; coverage of 2007 Putnam County Relay For Life; and an Indianapolis Star feature on student-athlete Liz Bondi, the most valuable player on DePauw's national champion women's basketball team.
| | | | | |
| --- | --- | --- | --- | --- |
| | Hits | Unique Visitors | Visits | Page Views |
| April 2007 | 21,637,770 | 330,915 | 1,239,730 | 4,616,572 |
| April 2006 | 19,406,743 | 201,422 | 1,030,065 | 5,233,723 |
| April 2005 | 12,964,237 | 162,614 | 742,046 | 3,414,106 |
| April 2004 | 8,725,249 | 156,237 | 515,419 | 2,203,356 |
| April 2003 | 8,198,885 | 77,454 | 395,947 | 1,746,722 |
| April 2002 | 7,244,285 | 75,914 | 334,430 | 1,257,651 |
| April 2001 | 3,810,529 | 31,364 | 190,959 | 981,438 |
("hits" is a count of all the successful hits including HTML pages, pictures, forms, scripts and files downloaded; unique visitors counts each user once per month; visits counts every time a user visits the site)
Back