Clay Thompson '82 Joins National Investment Managers as Sr. VP
May 2, 2007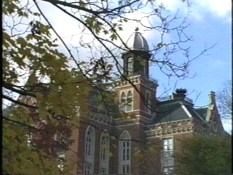 May 2, 2007, Greencastle, Ind. - R. Clay Thompson, a 1982 graduate of DePauw University, has joined National Investment Managers Inc. (OTC BB: NIVM) as senior vice president and national sales manager. The firm is a nationally-operated and regionally-based retirement plan administration and investment management company.
An announcement at Yahoo! Finance notes that Thompson "has spent his entire career in the financial services arena, most recently as President of the Nationwide Financial Network (formerly Provident Mutual) and of 1717 Capital Management Company, both of which are divisions of Nationwide Financial Services. In his capacity as the head of Nationwide's career life insurance distribution, he was responsible for 2200 agents across the country, 18 managing partners and for the operation of the 1717 broker dealer." It also points out that Thompson "has a degree in economics from DePauw University in Greencastle, IN."
"I have known Clay for well over 15 years and I believe that his
success at Nationwide speaks for itself," says John Davis, president and CFO, National Investment Managers. "He has consistently delivered outstanding sales results across numerous distribution channels, and with his skills in the relationship management area, I know he will enhance our sales efforts on a national level. I am very excited about the addition of Clay to our management team, and look forward to working closely with him as we continue to build and grow National Investment Managers."
Adds Steven Ross, CEO of National Investment Managers, "Clay is a great addition to the management team, and his knowledge and experience of the industry will provide great resource to our customers."
Read more by clicking here.
Back