HDNet to Televise Next Three Monon Bell Classics
May 4, 2007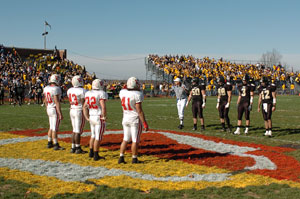 May 4, 2007, Greencastle, Ind. - The Monon Bell Classic -- one of America's oldest and richest college football rivalries -- will be nationally telecast on HDNet for the next three years, DePauw University and Wabash College announced today. The three-year contract calls for HDNet, which has televised the 2003 and 2006 games, to broadcast the November 10, 2007 contest from DePauw's Blackstock Stadium as well as the 2008 and 2009 battles for the Bell.

[Download Video: "Ballad of the Monon Bell - 2007 Version" - 7619kb]

[Download Audio: "Ballad of the Monon Bell - Stereo" - 2514kb]
"The Monon Bell is truly special, and I'm thrilled that we're able to continue our partnership with
DePauw and Wabash," says Mark Cuban, president and co-founder of HDNet. "Securing the Monon Bell for the next three years will ensure continuity for our viewers and keep a great college football rivalry on the HDNet program schedule."

[Download Video: "2006 Monon Memory" - 8811kb]
"The production quality that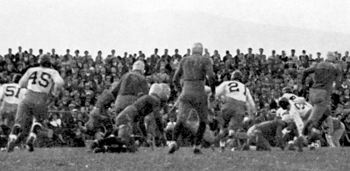 HDNet provides and the professionalism of the network's personnel is second to none," states Ken Owen '82, director of media relations at DePauw. "High definition equipment is now ubiquitous, so finding the game on cable or satellite is very easy. Being on a channel that boasts a growing national audience and programs that include the NHL, NASCAR and Dan Rather Reports gives DePauw and Wabash superb visibility coast-to-coast."

[Download Video: "1932 Monon Memory" - 3518kb]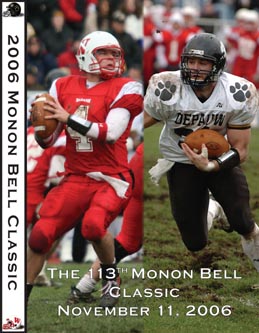 "Alumni are still buzzing about the fantastic telecast they saw on HDNet last fall," adds Wabash's Jim Amidon, who works with Owen on the coordination of the telecast. "I've had a number of people tell me that the camera angles, replays, and sidebars rivaled what they've seen in telecasts of national championship games. And from our end, Mark Cuban and his colleagues in production are a joy to work with."

[Download Video: "1960 Monon Memory" - 3521kb]
HDNet is the first national television network broadcasting all of its programming in 1080i HD, the highest-quality format of high-definition television (HDTV). To receive the game on HDNet, viewers must have an HDTV and high-definition tuner box. Viewers must also subscribe to the high-definition package offered by their cable or satellite provider.
[Download Video: "1981 Monon Memory" - 5633kb]
HDNet and HDNet Movies are available on Bright House Networks, Charter Communications, DIRECTV, DISH Network, Insight Communications, Mediacom Communications,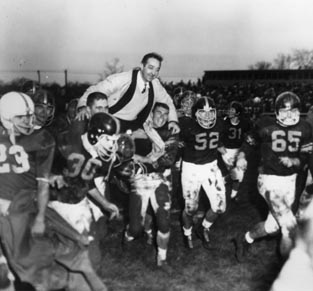 Time Warner Cable and many National Cable Television Cooperative (NCTC) cable affiliate companies. Visit HDNet online by clicking here.

[Download Video: "1933 Monon Memory" - 6722kb]
Heading into the 2007 contest -- the 114th in the all-time series -- Wabash holds a slim 53-51-9 advantage. The two teams first clashed on the gridiron in 1890 and have met every year since 1911. Kickoff is set for 1 p.m., eastern time on November 10.

[Download Video: "2004 Monon Memory" - 7774kb]
DVDs of 2001-2006 Bell Battles are still available. Learn more, and order online, here.

[Download Video: "1965 Monon Memory" - 3120kb]
Access DePauw's Monon Bell Web page here. A complete roster of "Monon Memories" -- video highlights of past classics -- can be found here.
Back