LA Times Managing Editor Doug Frantz '71 to Judge Prestigious Loeb Awards
May 7, 2007

May 7, 2007, Greencastle, Ind. - Douglas Frantz, managing editor of the
Los Angeles Times
and 1971 graduate of DePauw University, has been named to the final judging panel of the Gerald Loeb Awards for Distinguished Business and Financial Journalism. The Loeb Awards, the most prestigious honors in the field, recognize journalists who have contributed to the public's understanding of business, finance and the economy. Frantz's appointment was announced today by The G. and R. Loeb Foundation and UCLA Anderson School of Management.
Loeb Awards final judges serve as advisors to the program and are responsible for selecting winners from among the finalists in the competition categories, as well as the recipients of the career honors, the Lifetime Achievement Award and Lawrence Minard Editor Award.
"Frantz was named managing editor of the Los Angeles Times in 2005," notes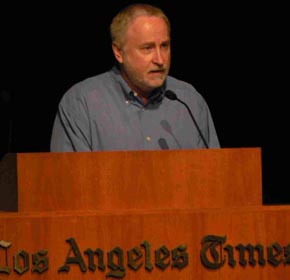 today's announcement. "He oversees the Times' major newsgathering operations, including foreign, metro, national, Washington, business, sports, science, obituaries and Column One. Frantz has served nine years with the Times ... He was city editor of the Albuquerque (N.M.) Tribune from 1975 to 1978. He then joined the Chicago Tribune as a metro reporter and later served as a Washington reporter. From 1994 to 2003, Frantz was an investigative reporter and foreign correspondent for the New York Times, later becoming the paper's investigations editor."
The text continues, "Frantz is a two-time Pulitzer Prize finalist ... His other investigative reporting honors include a 1995 and 1997 Worth Bingham Prize and a 1993 Goldsmith Prize. Frantz, with his wife, Catherine Collins, are currently working on a biography of AQ Khan, the father of Pakistan's nuclear program. They also have co-authored Death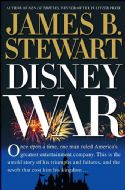 on the Black Sea: The Untold Story of the Struma and World War II's Holocaust at Sea, Celebration USA: Living in Disney's Brave New Town, and six other nonfiction books. He earned a bachelor's degree from DePauw University and a master's degree in journalism from Columbia University."
Frantz, who majored in English composition at DePauw, serves on the advisory board for the Eugene S. Pulliam Center for Contemporary Media.
Read more by clicking here.
In June 2006, DisneyWar: The Battle for the Magic Kingdom by James B. Stewart '73 received the Loeb Award for "best business book."  Details can be found in this previous story.
Back