Men's Tennis Team Advances to National Quarterfinals
May 7, 2007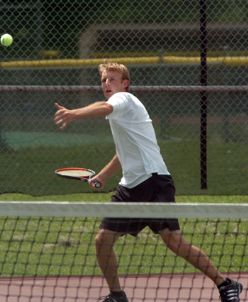 May 7, 2007, Greencastle, Ind. - For the second consecutive year and fourth time in school history, DePauw University's men's tennis team is headed to the NCAA Division III national quarterfinals. The
Santa Cruz Sentinel
reports that the University of California - Santa Cruz "will be the top-seeded team in the national championships. It will take on eighth-seeded Washington University of St. Louis, the host school, in the first round. Gustavus Adolphus, DePauw, Trinity University whom the Slugs beat 6-3 earlier this season, Williams College, Middlebury and Emory College round out the field."
DePauw, ranked #8 in the USA, topped 12th-ranked Whitman, 8-1, Sunday. Now 22-4 on the season, the Tigers next Middlebury in a May 15 quarterfinal match at

the Dwight Davis Tennis Center in St. Louis.
Read more at the newspaper's Web site, or visit the men's tennis team online by clicking here.
The fifth-ranked women's tennis team suffered a season-ending 5-3 loss yesterday at Denison in the third round of the NCAA Division III championships. Details can be found here.
Back