Student Vocal Ensemble to Perform at Indianapolis Museum of Art Thursday
May 13, 2007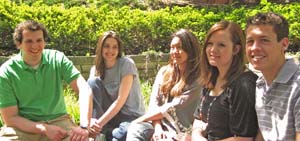 May 13, 2007, Greencastle, Ind. - Vox Musae, a vocal ensemble composed of DePauw University undergraduates, will provide the entertainment on Thursday, May 17, at the Indianapolis Museum of Art's Clowes Courtyard. At 7 p.m., Vox Musae will perform, a cappella, Claudio Monteverdi's Lagrime d'Amante al Sepolcro dell'Amata (The Tears of a Lover at the Tomb of his Beloved). Admission is free.
Consisting of five singers, Vox Musae ("the voice of the muses") came together to explore challenging works of a cappella music which lie outside the normal domain of choirs and madrigal ensembles. Its members are: Jessica Finchum, Elizabeth Hartnett, Lindsey Adams, Kyle Aberle and Joe Shadday.
Vox Musae is coached and directed by Gabriel Crouch, director
of choral ensembles at DePauw and a former member of the British a cappella group, the King's Singers.
The piece to be performed in Indianapolis reveals Monteverdi at his best -- powerful and intense emotions, moments of utter stillness interrupted by sudden eruptions of anger, and opportunities for great virtuosity for the singers -- all clothed in those sonorous harmonies and gut-wrenching suspensions which are the hallmark of his work. The group will perform for appoximately 20-25 minutes.
Visit the DePauw School of Music online by clicking here.
Back