716 New Students Commit to DePauw for Fall; Incoming Class is Closed
May 7, 2007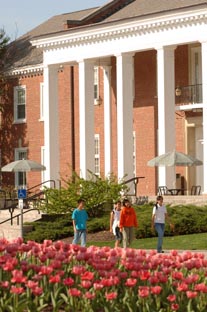 May 7, 2007, Greencastle, Ind. - One of the largest incoming classes in DePauw University's recent history is set to enroll this fall. A total of 716 students have committed to attend DePauw, 46 more than the University's goal for the Class of 2011. "We will not be admitting students from the wait list this year, and barring the receipt of any additional deposit checks postmarked by the May 1 deadline, the class is closed," states Stefanie Niles, vice president for admission and financial aid.
The 716 incoming student total represents a 16% increase over the 619 who had committed by this date in 2006, and eclipses the recent record high of 709 set in 2002.
The new students come from 36 states and 15 foreign countries, with the number of international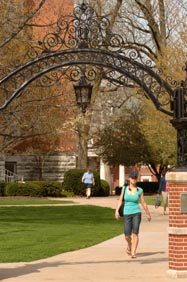 students in the incoming class (31) 107% higher than last year's total (15). One-hundred-twenty of the incoming undergraduates are students of color. Fifty-seven students have accepted invitations to enroll in the DePauw University School of Music, seven more than the admission office's goal for the new class.
"This is an academically strong group of young people from a wide range of backgrounds who have been involved in their schools and communities," says Niles. "This represents an exclamation point at the end of a very successful admission season, and I credit my staff for the hard work they clearly put in, and, of course, for being terrific representatives of DePauw."
She adds, "It's clear from our conversations and e-mails with prospective students that greater numbers of young people are hearing about DePauw and are excited about the prospect of living and studying here for four years. The numbers are proof positive that DePauw is a desirable destination for academically engaged students."
The June issue of Consumers Digest magazine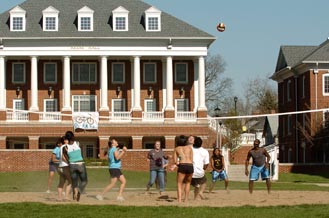 ranks DePauw as the #4 "top value" among America's private liberal arts colleges. America's Best Value Colleges: 2008 Edition, released last month by the Princeton Review, again lists DePauw as one of 165 colleges offering excellent academics, generous financial aid packages and relatively low costs. For a second consecutive year, DePauw's historic East College is pictured on the front cover of the publication. The April edition of Kiplinger's Personal Finance ranks DePauw University among the 50 liberal arts colleges in the United States that represent a "best value."
The 2007 edition of U.S. News & World Report's "America's Best Colleges" lists DePauw University in the top tier of national liberal arts colleges for a seventh consecutive year. "DePauw is a midwestern match for many more expensive, small, private East Coast Colleges," asserts Barron's Best Buys in College Education. DePauw is again among the The Best 361 Colleges in Princeton Review's 2007 guide, released last summer.
The 2006 National Survey of Student Engagement (NSSE), released in November, found that the experiences of students at DePauw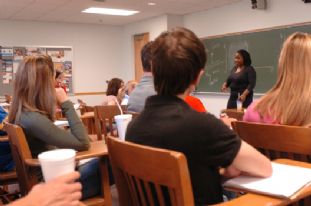 are significantly more challenging, stimulating, interactive and dynamic than those provided at peer institutions and the national average of all colleges and universities. The University performs especially well in the areas of level of academic challenge, active and collaborative learning, student-faculty interaction, enriching educational experiences. (at right: Mikhail Gorbachev is questioned by DePauw student journalists at his Ubben Lecture, October 27, 2005)
The College Prowler guide states, "DePauw is definitely home to the quintessential college experience." The University was among the "50 Best Colleges" featured in the October 2006 issue of CosmoGirl magazine. The Advocate College Guide for LGBT Students ranks DePauw among America's best 100 campuses for lesbian, gay, bisexual and transgender students.
Prospective students who would like more information on DePauw University, including access to an online application form, can click here.
Back