Six Tigers earn all-region honors
May 10, 2007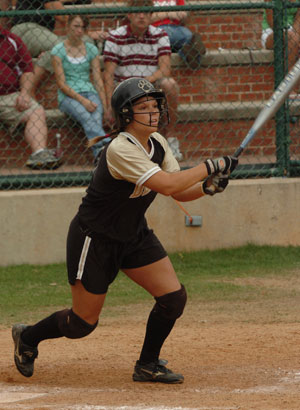 May 10, 2007, Greencastle, Ind. - The Tigers were well-represented on the Lousiville Slugger/National Fastpitch Coaches Association with the selection of six student-athletes to the all-Central Region Team including four first teamers.
Rachel Gill (pictured), a second team all-region choice last year as a designated player, was named first team as a catcher this season. Gill ranks 10th in Division III in RBI/game, 16th in batting average and is the third toughest player to strike out in the nation. The sophomore is hitting .488 and has already set the SCAC and DePauw records with 50 RBI and has tied the DePauw single-season record with 50 RBI.
Joining Gill on the first team were outfielder Chelsy Patterson, designated player Laura Schlensker and pitcher Megan Soultz as an at-large selection. Patterson is hitting .437 on the season and has established school records this season with 46 runs and 15 stolen bases. Schlensker is batting .409 this year with four homers and 34 RBI including a pair of grand slams. Soultz, in her rookie season, has posted a 14-3 record with a 0.71 ERA including 129 strikeouts and just 11 walks in 108 innings.
Pitcher Lauren Curosh, who posted a 12-1 record, was a third team pitcher and first baseman Jessica Krueger was a third team at-large choice. Krueger is hitting .344 this season with 31 runs batted in.
The Tigers begin NCAA regional play this afternoon when they take on Allegheny College in a 4 p.m. game at Muskingum College in New Concord, Ohio. The game can be heard live on WGRE. For more information about the regional, please visit the host site or ncaasports.com.
Back