Prof. Jeff McCall '76 Authors Viewer Discretion Advised: Taking Control of Mass Media Influences
May 11, 2007
May 11, 2007, Greencastle, Ind. - Viewer Discretion Advised: Taking Control of Mass Media Influences, by Jeffrey M. McCall, professor of communication at DePauw University, is arriving in bookstores. Published by Rowman & Littlefield, the text "shows where our media has gone wrong and what we can do about it," states a synopsis of the title."
It continues, "Established media critic Jeffrey McCall illustrates the problems with much of contemporary media content, why it is this way, how to better manage children's media use, how to become more critical audience members, and more. It also includes a helpful chapter on how readers can actively challenge media companies."
"I was motivated to write this book because I believe that even bright, well-read citizens have too little understanding of how the media operate," says Dr. McCall, a 1976 graduate of DePauw who has taught at the University since 1985. "The media affect our culture in so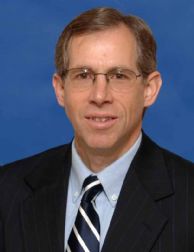 many ways, but not many Americans take a proverbial peek behind the curtain to consider and analyze media processes and messages."
The professor adds, "In my several years as a media analyst and columnist, I have frequently heard from readers or viewers who said that they previously had not known about the media insights I provided. I believe Americans want and need to know more about their media, and take a more active role in getting their input to media corporations and producers. This book provides readers with insights on the importance of media literacy, and then provides analysis on a variety of the important media issues of the day -- how broadcast news producers often fail to inform us about the most important issues in our society, how the First Amendment is frequently misunderstood, how the government regulates the media, and how parents can more effectively manage their kids' TV viewing, and other current issues."
John McWethy, former national security correspondent for ABC News and 1969 graduate of DePauw, opines, "Jeff McCall's searing book raises painful issues that we all -- as Americans, as journalists, and as consumers of mass media --
should be examining and for which we should be demanding answers and change...."
Learn more about Viewer Discretion Advised at the publisher's Web site.
A frequently quoted observer and critic of media matters, Jeff McCall recently wrote an op-ed on the federal government's move toward regulating violent content in television programs. He also discussed network television news programs and the struggles of CBS and Katie Couric in the Los Angeles Times and on Bill O'Reilly's nationally syndicated radio program, and analyzed the proposed merger of satellite radio companies Sirius and XM in Toronto's Globe and Mail.
Back