Prof. Valarie Ziegler Discusses Origins of "Mother's Day for Peace" with South Carolina Newspaper
May 13, 2007

May 13, 2007, Greencastle, Ind. - The 1870 concept of Mother's Day -- in the eyes of Julia Ward Howe, an activist in the women's rights movement and author of Battle Hymn of the Republic -- "didn't honor mothers but instead asked them to band together against war," notes today's edition of South Carolina's Spartanburg Herald-Journal. "It was actually 'Mother's Day For Peace,'" Valarie H. Ziegler, professor of religious studies at DePauw University, tells the newspaper. Ziegler authored the book, Diva Julia: The Public Romance and Private Agony of Julia Ward Howe.
Lane Filler writes, "In a phone interview Thursday, Ziegler explained that Howe believed men were naturally aggressive and women naturally peaceful, and women needed to amplify their public voice to balance male aggression in society. Howe's movement never gained widespread acceptance, Ziegler said."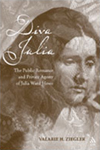 Read the complete column, headlined "Just for you, Mom," by clicking here.
Diva Julia is the first full-length biography of Julia Ward Howe and earned Professor Ziegler the inaugural Trinity Prize. Read more in this previous story.
Last May, Professor Ziegler discussed her work with Florida's St. Petersburg Times. Details can be found in this previous story.
Source: Spartanburg (S.C.) Herald-Journal
Back