Top Seed Liz Bondi Brings Her "Amazing Serve" to NCAA Singles Championships
May 16, 2007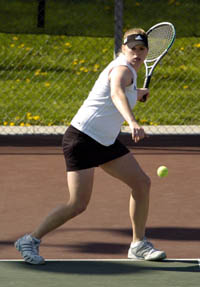 May 16, 2007, Greencastle, Ind. - The NCAA Division III women's tennis singles championships begin Friday, and "The top seed is 5-foot-10 Liz Bondi of DePauw," reports Virginia's Roanoke Times. In the article, Washington & Lee coach Cinda Rankin calls Bondi "a big, strong girl with an amazing serve."
Access the complete text at the newspaper's Web site.
DePauw will also be represented in the doubles championship competition by the team of Bondi and Amrita Padda. (the two are seen together in photo at right)
DePauw's team, which was ranked #5 in the nation, lost to Denison in the third round of the team championships, May 6.
For comprehensive coverage of the women's tennis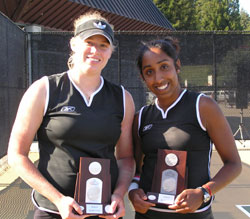 team, click here.
On April 27, the Indianapolis Star wrote of Liz Bondi's "stunningly successful run as a two-sport college athlete." Jeff Rabjohns noted that the senior "was named Most Outstanding Player in leading the Tigers to the NCAA Division III national title, the first in school history. As a tennis player, Bondi has won a singles title and two doubles crowns in the Intercollegiate Tennis Association, which competes in the fall. In the Division III spring national tournament, Bondi has been quarterfinalist or better three times in singles and doubles."
Read more by clicking here.
Back