"Ecological Patriot" J. Nichols '89 in Leonardo DiCaprio Documentary, Profiled in Publication
May 18, 2007
May 18, 2007, Greencastle, Ind. - The livelihood of Wallace J. Nichols, a marine biologist and 1989 graduate of DePauw University, "is to research the ocean and teach others about his discoveries," notes Good Times, a weekly newspaper in Santa Cruz, California. Dr. Nichols is featured on the cover of this week's issue, and is the subject of a lengthy profile and interview within the publication.
"At 39, Nichols, or J. as most people commonly know him, may have always been a passionate human being," writes Greg Archer. "But over the last few years, he has even more reason to be, thanks to two words: global warming. The way he sees it, 'global warming is an ocean issue.'"
As the story points out, Nichols is festured in a new documentary, The 11th Hour, which was written and directed by Leonardo DiCaprio. "Nichols commentary on the state of the environment, specifically the ocean, is featured in the film, which hits Cannes Film Festival on May 18 and opens locally later this year."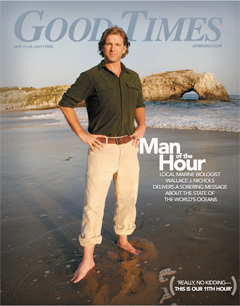 Others in the film include Stephen Hawking, Mikhail Gorbachev, Sylvia Earle and David Orr. "The project finds Nichols in, deservedly, good company. And while mixing scientific discoveries with Hollywood may be a far cry from the quiet Davenport home Nichols shares with his two daughters and their mother, the man who nabbed his doctorate in ecology and is on a long list of environmentally conscious organizations -- Ocean Revolution and Ocean Conservancy among them -- knew that being involved in the project would be an opportunity to help rattle humanity out of its slumber."
Archer reports, "Nichols own childhood was inspired. He spent most of his youth exploring life in the ocean and the forests, where he became fascinated by genetics and migration. Human culture and conservation also piqued his interests. Eventually, he had dreams of how it -- nature, his environment -- worked, an aspiration that helped him excel at Indiana's DePauw University. He managed to spend his winter breaks researching the vibrant waters of Latin America. After graduate studies at Duke University and University of Arizona -- of all places for a bona fide waterman -- he became a Fulbright Fellow and a research associate at the California Academy of Sciences in San Francisco."
The text goes on to discuss Dr. Nichols' groundbreaking research on the migration of sea turtles, which was the basis of a recent segment of PBS's Nature. Among his other activities, Nichols "works with a wide variety of universities and organizations to increase the amount of ocean protection."
The article, which is accompanied by an array of photos, describes J. Nichols as "a soulful creature and an ecological patriot. But don't let the cool blue eyes fool you. The man's on fire. And as a staunch advocate for helping restore the damages already done to the world's oceans, he's clear about one thing: Healing the planet isn't going to happen by using a verbal bandage."
Read the lengthy article at Good Times' Web site.
Back