Commencement Day Forecast Now Includes Chance of Storms
May 18, 2007
Commencement Information; Order Your Commencement DVD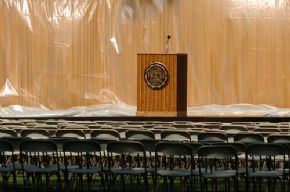 May 18, 2007, Greencastle, Ind. - With about 50 hours to go before the East College bell signals the start of DePauw University's 168th annual commencement, the weather forecast has shifted a bit. The latest outlook calls for a 30% chance of isolated thunderstorms in the afternoon with a high of 82 degrees. The ceremony is set to begin at 1 p.m. on the lawn of historic East College, weather permitting. In the event of rain, the program will be moved indoors to the Lilly Center's Neal Fieldhouse. To view the Greencastle forecast (updated around the clock), click here.
Conditions are perfect this morning as members of the Class of 2007 gathered for a run-through of Sunday's festivities. Approximately 514 diplomas will be awarded this weekend.
The keynote address to the Class of 2007 will be provided by Karen Koning AbuZayd, commissioner-general of the United Nations Relief and Works Agency (UNRWA) and 1963 graduate of DePauw. AbuZayd will also receive the McNaughton Medal for Public Service. Two distinguished alumni of DePauw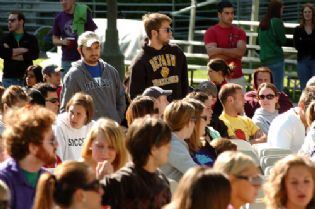 University -- Robert M. Steele '69 and William F. Welch '40 -- will be awarded honorary doctoral degrees.
Commencement will also include speeches by DePauw President Robert G. Bottoms and 2007 graduate Bess Evans, the recipient of this year's Walker Cup.
For more information on DePauw's 168th annual commencement, click here.
Order a DVD -- which will include a multi-camera shoot of the entire ceremony and will be replicated by Sony Disc Manufacturing -- here.
Back