Liz Bondi Named Nation's Top D-III Women's Tennis Player; Evan Webeler Takes Regional Honors
May 18, 2007
May 18, 2007, Greencastle, Ind. - DePauw University senior Liz Bondi is the Intercollegiate Tennis Association (ITA) 2007 Division III women's player of the year. Bondi began play today as the #1 seed in the NCAA singles championship in Fredericksburg, Virginia, where she defeated Sarah D'Elia of Bowdoin, 6-4, 6-0, and then topped Emory's Tshema Nash, 6-1, 6-3 to advance to the quarterfinals tomorrow. The top-seeded doubles team of Bondi and Amrita Padda were defeated in the opening round by Williams' Cary Gibson and Annie Schneidman 7-6, 6-2.
Bondi, who was featured in Wednesday's Indianapolis Star and in Sports Illustrated's "Faces in the Crowd" last month, was named "Most Outstanding Player" on the Tiger basketball team that won the NCAA Division III national championship in March.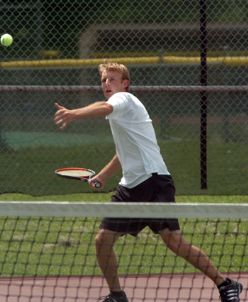 DePauw senior Evan Webeler was also honored as the ITA's top men's player in the central region. Today, he advanced to the men's singles quarterfinals following a pair of wins on the opening day of competition and teamed with Scott Swanson for a doubles victory that also propelled the duo to the quarterfinals.
Access a list of award winners here, and get the latest on Tiger athletics by clicking here.
The Intercollegiate Tennis Association is a non-profit service organization which serves as the governing body of collegiate tennis in the United States. Composed of nearly 1,500 men's and women's coaches representing over 1,200 institutions across the country from all three NCAA Divisions, as well as the NAIA and Junior and Community Colleges, the ITA oversees activities involving over 25,000 college student-athletes (varsity & JV).
Back