Webeler repeats as SCAC Player of the Year; Cath named Coach of the Year
May 19, 2007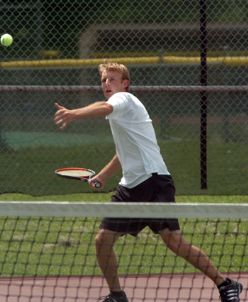 May 19, 2007, Greencastle, Ind.
- Senior Evan Webeler (pictured) and head coach Tom Cath took top honors in the Southern Collegiate Athletic Conference in voting by the conference's 11 coaches. Webeler was named the SCAC Player of the Year for the second conseuctive season improved his singles record this season to 30-5 after advancing to the national quarterfinals. He also improved to 28-9 in doubles yesterday after advancing to the national quarterfinals with Scott Swanson.
Webeler was the Player of the Year in 2006 and the runner-up in 2005 and is just the third men's player in the history of the conference to earn back-to-back honors. Joining Webeler on the all-SCAC team was Kortney Keith and earning honorable mention was Bryan Heck.
Tom Cath, who has posted a career mark of 333-154 in 22 years, led the Tigers to a school-record 22 wins this season including a second straight trip to the quarterfinals and fourth in school history. Cath has earned SCAC Coach of the Year honors two out of the last three years.
The complete team is available
here
.
Back