SCAC Honors for Two Seniors as NCAA Tennis Tourneys Continue
May 19, 2007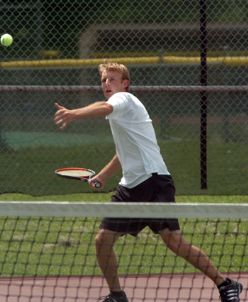 May 19, 2007, Greencastle, Ind. - "Virginia Wesleyan's Eric Caudill and Jeff Zenisek dropped a 1-6, 6-1, 6-4 decision to Evan Webeler and Scott Swanson of DePauw (Ind.)," reports the Daily Press of Hampton Roads, Virginia. The DePauw doubles team moves on to the quarterfinals of the NCAA Division III men's tennis championship in Salem, Va., today. Webeler won two singles matches yesterday and plays Andy Bryan of Gustavus Adolphus in this morning's quarterfinal.
Webeler just learned that he has been named the Southern Collegiate Athletic Conference "Men's Tennis Player of the Year" for a second straight year. His team's head coach, Tom Cath '76, took the SCAC's top coaching honor.
Evan Webeler is 30-5 in singles play this season and 28-9 in doubles.

Cath, who has posted a career mark of 333-154 in 22 years, led the Tigers to a school-record 22 wins this season including a second straight trip to the quarterfinals and fourth in school history. Cath has earned SCAC Coach of the Year honors two out of the last three years.
Liz Bondi advances to quarterfinals play in the women's national championship.The DePauw senior is the tournament's top seed. She will face Middlebury's Amy Roche in this morning's quarterfinal in Fredericksburg, Va.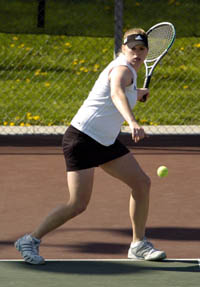 The top-seeded doubles team of Bondi and Amrita Padda were defeated in the opening round yesterday by Williams' Cary Gibson and Annie Schneidman 7-6, 6-2.
Meanwhile, Bondi is the SCAC's "Women's Tennis Player of the Year" for the third straight year in voting by the conference's 11 head coaches. Bondi, who was named the SCAC "Women's Basketball Player of the Year" for a second straight year after leading the Tigers to the Division III national championship, has posted a 28-2 singles record this season headed into the national quarterfinals and finished with a 25-3 doubles mark.
This week, Bondi was also named the Intercollegiate Tennis Association (ITA) 2007 Division III women's player of the year, while Webeler took regional honors. Details can be found in this previous story.
For the latest on Tiger athletics, click here.
Back